10 Sep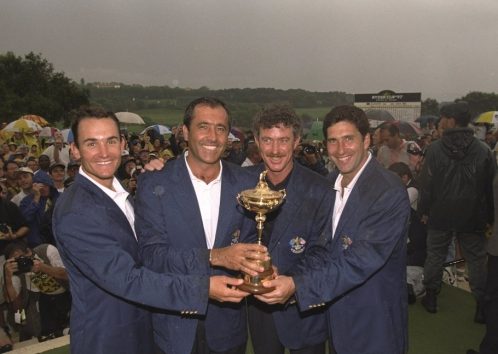 When the Estrella Damm N.A. Andalucía Masters returns to Valderrama next month, the Sotogrande club will be commemorating the 25th anniversary of its most stellar moment in golfing history. In September 1997, Royal Valderrama hosted the first Ryder Cup  in continental Europe – i.e. the first outside the UK and the US. 
Since then (and for a decade before, dating to the 1988 Volvo Masters), the club has steadfastly maintained its stature as one of the world's most acclaimed golf courses, with an impressive schedule of top tour events that continues this year – from 13 to 16 October – with the Andalucía Masters.  
Led by non-playing captain Severiano Ballesteros, the European team won that 1997 Ryder Cup contest against the Americans (captained by Tom Kite and including Tiger Woods making his Ryder Cup debut) by 14½ to 13½ points.
"For me," recalled Jose María Olázabal on the 20th anniversary, "it was a very special Ryder Cup: after all the Ryder Cups Seve and I had played together, it was the first time I played for him as captain. Seve was attentive to everything. He demanded a lot from us, the same as he had always demanded from himself, and he was on top of all the players. Seve studied the American team's game in depth and prepared the course so that we all played from the same areas to have the same opportunities, and with the help of 'Pisha' (vice-captain Miguel Ángel Jiménez), his right-hand man, he was absolutely right when choosing pairings. He conveyed to us the passion he put into everything he did and he was a great captain."
Jon Rahm was only two years old when the Ryder Cup was played at Valderrama, but his sporting destiny was marked by the event.
"Some friends of my father's were at the 1997 Ryder Cup. When they came back, they encouraged him to play golf and we signed up for Eduardo Celles' school. That's how it all started. If it wasn't for that Ryder Cup, I probably wouldn't be here", Rahm explained on his first appearance at the Estrella Damm N.A. Andalucía Masters (2017)."
The 2022 Estrella Damm N.A. Andalucía Masters, a DP World Tour (formerly the European Tour) event, is being co-sponsored by the Junta de Andalucía (regional government), is jointly funded by the EU, and has been declared an "Event of Exceptional Public Interest" by the national Spanish government.
Spectators are offered a comprehensive range of ticket options, including individual day tickets, and four-day and weekend passes, with preferential rates for federated golfers and free entry for children under 13. Tickets can be purchased on the Tour or tournament websites.
Pictured: Ignacio Garrido, Seve Ballesteros, Miguel Ángel Jiménez and José María Olazábal with the Ryder Cup in 1997 (David Cannon/Allsport)