25 Mar
Málaga's top chefs have once again made a strong commitment to encouraging and actively promoting healthy and creative culinary options through the annual ChefsforChildren philanthropic initiative. Comprising a series of special events around Spain for young potential cooks and foodies of the future, this year's fifth edition of ChefsforChildren will culminate in a gala charity dinner at the Anantara Villa Padierna resort in Benahavís on 24 April.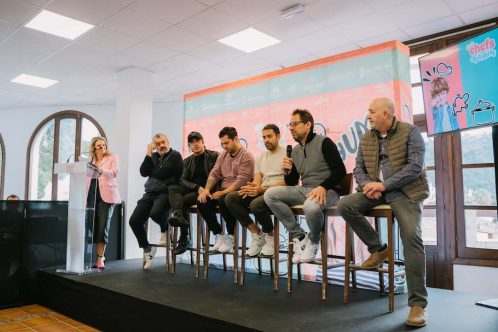 The official press presentation of the gala, and associated events, was held at the Escuela de Hostelería de Benahavís, where five of Málaga's top chefs spoke passionately about their involvement in ChefsforChildren and the enthusiasm of youngsters taking part. They also stressed the philanthropic nature of the gala, which this year is raising funds for the Fundación Pequeño Deseo. 
The five chefs present were José Carlos García (from his eponymous José Carlos García restaurant in Málaga port), Diego Gallegos (Sollo in Fuengirola), Fernando Villasclara (El Lago in Elviria, Marbella), Mauricio Giovanini (Messina in Marbella town centre) and Dani Carnero (Kaleja in Málaga city).
They, together with Manuel Navarro from this year's host venue (Anantara Villa Padierna), have each created a dish for the gala menu. In total, 47 chefs from Michelin-star restaurants throughout Spain will be present at the gala to share their culinary knowledge and insight with food lovers who book tickets for the dinner – and who also generously support this worthy cause.    
Stellar Tasting Menus
In the weeks leading up to the presentation, OzinSpain was invited to savour exclusive tasting menus with selected local press at the José Carlos García, Sollo and El Lago restaurants – each recognised with one Michelin star and two Repsol "Soles".
Dining at the

Muelle Uno portside restaurant of

José Carlos García

is a truly privileged gastronomic experience. We enjoyed an exquisite tasting menu of 18 "bocattos", complemented by two additional delicacies (beluga caviar and crêpe of angulas/eels) from his other expanded menu – paired with a "maridaje" of fine wines.

Known as the "Caviar Chef",

Diego Gallegos

presides over one of Spain's most innovative restaurant establishments,

Sollo

. At this culinary jewel on the outskirts of Fuengirola (in the

Hotel Higuerón Curio Collection by Hilton

), we were invited to taste his sumptuously sustainable 2023 "Caminho" menu. Also the holder of a highly-coveted Michelin "Green" star, Gallegos has set up his own "gastro-aquaponics" water farming garden in the hotel grounds.

At

El Lago

. chef

Fernando Villasclara

has created an exceptional gourmet menu based on "kilometre zero" (locally sourced) seasonal products, with a special focus on vegetarian dishes, as well as a lunchtime "Midi" menu. The lakeside restaurant is overseen by a highly professional and amiable front-of-house team managed by Antonio Jiménez.
In addition to the Josá Carlos García, Sollo, El Lago, Kaleja and Messina restaurants, another establishment in Málaga province with one Michelin star is Nintai (Marbella town centre), while Skina (Marbella Old Town) and Bardal (Ronda) have two stars each.
Costa del Sol-born celebrity chef and entrepreneur Dani García secured a third star for his own eponymous restaurant in Puente Romano Resort (on Marbella's Golden Mile) in 2019 but almost immediately relinquished it, rebranded the restaurant, and declared he was going to focus on a new project to promote Spanish cuisine around the world. By 2023, he had 20-plus restaurants, in Marbella, Madrid, Barcelona, Ibiza, New York, Dubái, Doha and France (Paris).
The driving forces behind ChefsforChildfren are Pilar Candil and Ángel Pardo of Lima Comunicación y Eventos, while the main sponsor this year is Benahavís Town Hall. 
Tickets for the gala are available here.
A special À La Carte feature on El Lago and Jose Carlos García restaurants was published in the March-April issue of Home & Lifestyle Magazine (P.176-177).
The five restaurants at Anantara Villa Padierna were featured in the magazine's January-February issue (P.162-163).