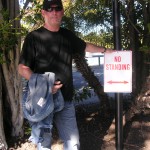 Nacido en Sydney (Australia) en 1957, Peter Leonard empezó su carrera periodística en 1978 con Bundaberg Newspaper Company en Queensland. Trabajó como reportero, articulista, columnista y editorialista, corresponsal de deportes y redactor general para publicaciones semanales y diarias antes de viajar a Europa a finales de 1984 y establecerse en la Costa del Sol.
Desde 1985 hasta 1992 fue redactor jefe de la revista mensual Costa Golf, y en 1993 editó el diario semanal Sunday Sun, también en la Costa del Sol, Durante este tiempo colaboró con el reposicionamiento editorial de Skål News, la revista de los socios de la asociación turística Skål International.
En 1994 trabajó como colaborador para varios publicaciones locales, nacionales e internacionales, especializandose en el golf español, y también como editor del diario semanal Coastal Times.
Desde enero 1995 hasta agosto 2002, fue redactor jefe de la revista The Reporter, dirigido a residentes extranjeros en España, después director-general y últimamente co-editor de Sun Print Publications – editor de The Reporter – hasta agosto 2002.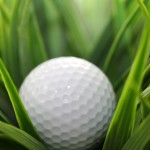 Desde 1995, ha sido responsable de la material editorial en inglés de la página web GolfinSpain.com.    
A principios del 2002, ayudó a fundar la Club de Prensa de la Costa del Sol (Costa Press Club) y fue elegido (y todavía es) el tesorero.
Desde febrero 2003 hasta enero 2004 fue redactor jefe de Hot Properties, una revista mensual sobre propiedades inmobiliarias y estilo de vida editado por la agencia inmobiliaria Viva Estates.
En abril 2004, fue contratado por la revista marbellí H! Society como redactor jefe de producción, y en diciembre del mismo año nombrado redactor jefe. Después de que la revista fuese adquirida por el editor londinense TPC, fue encargado de establecer una edición en Mallorca (siendo nombrado redactor jefe del grupo); y el año siguiente cogió las riendas de la nueva revista de casas y decoración del grupo, Beautiful Living España.
Cuando H! Society y Beautiful Living España cesaron de publicar en abril 2009, reanudó su carrera de corresponsal y colaborador con otras publicaciones en España, como autónomo ofreciendo servicios periodísticos, incluyendo su proyecto digital OzinSpain.com.
Sus principales clientes actuales incluyen la revista bilingüe (español e inglés) Andalucía Golf/España Golf y la revista Home & Lifestyle (el sur de España), mas GolfinSpain.com. También, desde 2019 ha colaborado con una empresa de marketing del Reino Unido que publica varias páginas de web para los viajeros en Europa.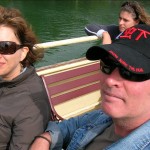 Es padre de una hija española Kaili (enfermera), y vive en Fuengirola con su mujer finlandesa Katja, propietaria del restaurante vegetariano Vegetalia.