8 Aug
Michelle Obama… just a "normal" tourist
AFTER SETTLING into her luxurious accommodation at the Villa Padierna hotel, Michelle Obama and her entourage headed to Marbella for a walk around the Old Town and later dinner at a local restaurant on the first evening of a controversial  four-day visit to the Costa del Sol.
Earlier, they were welcomed by the owner of the hotel Ricardo Arranz and his wife Alicia Padierna de Villapadierna. Arranz later told Europa Press the only thing the US first lady had asked for was "normality". She wanted to "enjoy the hotel, the surroundings and Marbella". She had not asked for exclusivity. On the contrary, she wanted to enjoy her stay – accompanied by younger daughter Sasha and friends who had recommended the hotel – as discreetly as possible.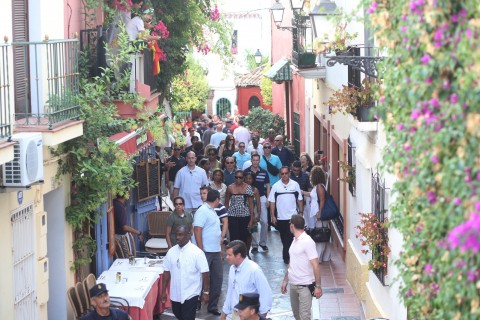 They arrived at Málaga airport around 10.30am on 4 August in a military aircraft ("Air Force Two") – about 20 people in all – and drove off in a convoy of 15 vehicles, as police cordoned off the traffic as part of an intensive security operation. An hour later, they arrived at the hotel, in Benahavis municipality (between Marbella and Estepona).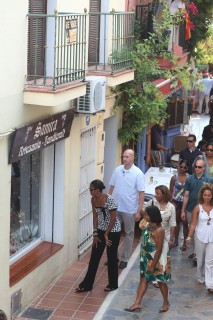 Michelle Obama and Sasha stayed in one of the hotel's villas – three storeys, private pool and butler service, reportedly costing €5,000 a night – with other companions and the security retinue taking over 60 rooms. She was reported to have specifically requested that the hotel, with a total of 160 rooms, not be closed to other guests during her visit.
The Obamas visited La Alhambra in Granada on their second day in Spain (Thursday); enjoyed a few hours at the hotel's beach club the next day, with Sasha also spending the afternoon at the Selwo Aventura safari park in Estepona; and travelled up to Ronda on the Saturday.
On the Sunday the Obama circus travelled to Mallorca for a protocol visit and lunch with the Spanish head of state, King Juan Carlos (who traditionally spends his summer holidays with his family in the Marivent palace), before returning to Washington.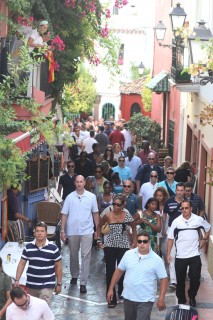 The previous night, Michele Obama had been invited to attend the inaugural Starlite Gala, held at the Villa Padierna and co-hosted by Antonio Banderas and Eva Longoria – both of whom supported Obama's presidential campaign. But in the end she chose to dine with her coterie at the über-select Marbella restaurant La Meridiana.
Málaga-born Banderas (who later, on 10 August, celebrated his 50th birthday in Marbella) did allude to her stay in Spain when speaking to the press before the event, noting that the best gift the Costa del Sol could give Michelle Obama would be to "not harass" her. She should be left in peace, he said, warning that if she were continually surrounded by people "she won't come back here". Banderas, of course, has suffered a similar fate over the years when staying at his Marbella villa.
Meanwhile, the PR value of Michelle Obama's stay on the Costa del Sol was estimated by a local marketing company at €800 million. However, less enthusiastic voices criticised the institutional fawning and "Welcome" banners springing up along the Coast. The El País newspaper ridiculed local authorities for showing a "puerile enthusiasm" for the visit; while other critics drew less than flattering comparisons with the classic 1953 Spanish comedy Bienvenido Mr Marshall, in which a small Spanish town prepared for the visit of American diplomats in the hope of benefitting under the post-war Marshall Plan. National parliamentarian Rosa Díez (Unión, Progreso y Democracia) said there was a certain element of "paletismo vergonzoso" (roughly translated as "embarrassing country bumkinism") in the welcome – "inappropriate" for a modern country.
So just what was the immediate international impact? The Australian of 5 August included one paragraph in its online version, not mentioning Marbella, Benahavis, the Costa del Sol or even southern Spain:
"The President received two happy birthday calls from first lady Michelle, who is in Spain with daughter Sasha, 9, and from his other daughter, Malia, 12, who is away at summer camp, his press secretary, Robert Gibbs, told reporters aboard Air Force One before Mr Obama arrived in Chicago." (Obama turned 49 on 4 August.)
Back home in the US, meanwhile, there was harsh criticism – and not just from Fox News. The White House described the visit as a "private mother-daughter trip with long-time family friends", but she was mocked by the New York Daily News as, "Material girl Michelle Obama… a modern-day Marie Antoinette on a glitzy Spanish vacation".
Even the New York Times observed, "Michelle Obama hoped to enjoy a quiet summer break in southern Spain with her younger daughter and a few friends. But the Andalucian getaway has gotten away from her as the European media document her every flamenco dance step and critics back home question the wisdom of such a lavish vacation, which involves at least some taxpayer money, in a time of austerity.
"Privately, officials note that the first lady is paying for her own room, food and transportation, and the friends she brought will pay for theirs as well. The government pays for security, and the Secret Service, not the first lady, determines what is needed.
"Officials said some reports of the trip had been exaggerated. Mrs Obama is not travelling with 40 friends, one official said, but with two friends and four of their daughters, as well as a couple of aides and a couple of advance staff members. The staff is with her because she will pay a courtesy call on King Juan Carlos and Queen Sofía.
"The Air Force jet she flew costs $11,351 per hour to operate, according to several reports, meaning a 14-hour round trip would cost nearly $160,000. The first lady would reimburse only the equivalent of first-class commercial tickets for herself and her daughter Sasha, the rest of the seats being occupied mainly by Secret Service. Officials said their friends flew on separate commercial flights."
The newspaper did conclude, however, "While some Americans frown, the Spanish eagerly welcomed the Obama group, seeing it as a boost for a tourism sector severely hit by the country's economic downturn."