25 Aug
Miss Australia third… in that dress!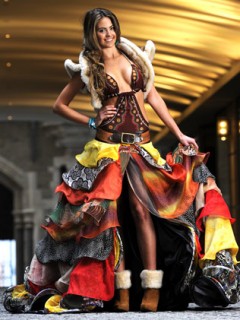 BRUSHING ASIDE the controversy over her choice of "national dress", Jesinta Campbell finished third in the Miss Universe pageant in Las Vegas.
The 19-year-old Gold Coast-raised beauty was second runner-up behind the winner, Mexico's Jimena Navarrete, who triumphed over 83 other contestants; and was also named Miss Congeniality Universe. The first runner-up was Miss Jamaica Yendi Phillipps.
As Miss Universe Australia, Jesinta was hoping to become the first Australian since Jennifer Hawkins in 2004 to claim the title of Miss Universe.
Contestants competed in three categories: swimsuit, evening gown and interview – as well as a national costume segment.
Jesinta's outfit by Sydney designer Natasha Dwyer was said to have been inspired by the outback and included a one-piece swimsuit with a hand-painted design by an indigenous artist, a multi-layered silk skirt, a lambs wool shrug and high-heeled ugg boots.
She said the outfit was "incredible" and "something that I am really proud to wear", telling the Herald Sun before leaving for Las Vegas, "I feel magnificent in it."