1 Sep
And ENCHANTED in ESTONIA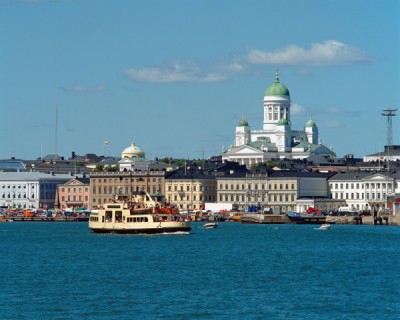 IT WAS A mid-summer afternoon on the serene shore of one of Finland's 190,000 lakes. Ari Vatanen sat relaxing on a log as a fellow Flying Finn raced through the forest. A group of Latvian tourists were waiting for their turn as "navigator".
We were at Fun Forest, an adventure playground in the south-western Finland town of Mänttä, and Vatanen, former world rally champion, four-times Paris-Dakar Rally winner and current European parliamentarian, had kindly agreed to give a rare interview, apparently curious to learn why Marbella's premier society magazine was more than 3,000 kilometres from home in what could well have passed for the middle of nowhere if you were more accustomed to sitting in a Puerto Banús terrace bar on steamy August afternoons.
In fact, he was a friend of a friend of a father-in-law (we were in Mänttä on a family visit), which obviously helped overcome his customary wariness about the press and encouraged him to offer a perceptively introspective view of the Finnish persona.
"We're quite a strange tribe, but you mustn't take us at face value; there's more than meets the eye. Finns are reserved and timid by and large but when we receive the right kind of encouragement we can have fun as well. Finns are not superficial people. It's much more important to be sincere and genuine than easygoing behind a façade."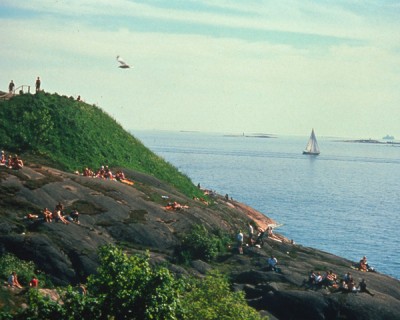 Vatanen's comments reflect the two, seemingly contradictory personalities of Finland. On the one hand there's this often-whimsical country that hosts the world air guitar championships and wife carrying world championship – adding, as Vatanen says, "spice to the European family". And on the other, a phlegmatic nation that quietly accepts punitive traffic regulations (except, apparently for not stopping at zebra crossings – no doubt a habit they've picked up from trips to Spain) and a government monopoly on highly-taxed alcohol sales.
"Apart from Nokia, we're not very good salesmen," explains Vatanen. "Very good engineers, but poor salesmen. There are festivals everywhere, yet ordinary tourists go to ordinary restaurants with mediocre European menus. They then say what a boring country, nothing but forest."
Mänttä is a classic case in point. Located about 80 kilometres from Finland's third largest city, Tampere, which in turn is 175 kilometres from Helsinki, Mänttä (population: 7,000) began as primarily a paper manufacturing town in the 1860s and stayed that way for a century. In recent years, however, hundreds of jobs have been lost at the local paper mill and the town has reinvented itself as a centre of regional education and, more important from a tourist point of view, "The Art Town".
The many attractions include a museum of fine arts, art centres, and summer art and music festivals – all of which have created "a new vibrancy", says Ari Vatanen.
Yet official tourist promotion in the town is generally considered inadequate and poorly coordinated. That key task is effectively left to such local entrepreneurs as Ronny Gilan (aforementioned father-in-law), who returned to Finland in 2003 after 20 years on the Costa del Sol, converted an old mill and train sheds into the Mill Shore Art Centre (Myllyrannan Taidekeskus) and established a summer-long art exhibition that features the work of leading Finnish and international artists (Spanish, British…). Just concluded its second year, it is already considered one of Finland's premier art exhibitions.
Markku Koskinen and his team at the neighbouring Fun Forest have also worked hard to put Mänttä on the tourist map.
Fun Forest is "a versatile and youthful adventure and programme service company", offering both standard and specially tailored packages – including snowmobile or water jet safaris, track car racing, nature excursions, hiking and cycling, hunting and fishing…
On the day we visited Fun Forest clients were being propelled along the 3.6 kilometre gravel road by Finnish rally champion Sakari Vierimaa.
By the time I climbed into the co-pilot's seat – a little apprehensively after being advised by a smiling member of the team that any accidents usually happened at the end of the day – Vierimaa had been at it for eight hours and the track was pretty cut up.  Fortunately, he had raced the course "thousands of times" and was holding back – about 80 per cent the speed in a proper rally. Considering he still manoeuvred around curves with the car almost perpendicular to the track and went close enough to trees at the side of the road to shave off any lose strings of bark, it was daunting to consider what 100 per cent would be like.
That survived, it was time to return to town. Mänttä is not somewhere you go to have a wild night out. It is, however, a pleasant town in which to chill-out, especially if you've been invited to stay at your father-in-law's guest cottage by the lake, complete with sauna, barbecue, litres of pear-flavoured cider and Mikhail Gorbachev's lengthy Memoirs (saved for this very purpose after being found in a bookshop's discount bin).
The town's only nightclub closed before summer, so restless revellers have to travel 30 kilometres to the nearest dance hall, and restaurants are sparse. If you like pizza, the Tropicana restaurant in the town "centre" offers superb and moderately priced varieties and doubles as the Casanova pub – but make sure you stay away on certain evenings if you think karaoke is about as enjoyable as gutting a pike.
Just around the corner is another of the town's well-presented but little-heralded attractions: the G.A. Serlachius museum, which provides a fascinating and at times whimsical insight into the town's forest industry (in English). We were told it had one of the few cafeterias in Mänttä offering decent coffee (i.e. not the percolated or filtered variety customarily available in Finland), and this was true, but the €2 charged for barely two thimbles of espresso left a bitter taste – and it wasn't due to the coffee.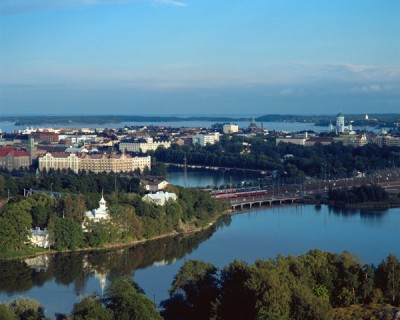 Finland excels in public transport so travelling between Helsinki and Mänttä is a relatively painless exercise: just over four hours by train and about one hour longer by bus (both with changes in Tampere). If you take the double-decker train and are tempted to sit up on the top deck – don't. Ventilation is non-existent and you wonder why they don't have a sign warning "Sauna" on the entrance.
The only drawback with travelling in Finland, by road or rail, is that the scenery can become a little repetitious. Forests cover more than two-thirds of the land, and lakes and rivers take up almost one-tenth of the country, which extends over more than 300,000 square kilometres in all. Finland's special charm is the interplay between trees and water – the densest forest are intermingled with lakes, ponds and rivers; and the largest lakes are scattered with tree-covered islands and promontories – but this cannot be fully appreciated from a bus or train seat. Nor can Finland's coastline, which encompasses an estimated 95,000 islands and extends for 1,000 kilometres. Including islands, peninsulas and inlets, the total soars to 40,000 kilometres.
One-quarter of the country is north of the Arctic Circle, and every lake in Finland freezes over in winter, as well as many coastal waters of the Baltic. Luckily, however, the North Atlantic Drift brings warm air to north-eastern Europe so average temperatures in southern Finland are 5ºC, though the minimum can drop to as low as –20ºC in Helsinki in winter.
The growing season is short – barely three to four months – but in summer daytime temperatures can reach 30ºC. The operative word here is "can" because a trip to Helsinki four years ago coincided with the coldest summer in 50 years, which meant an unscheduled visit to Stockmans – Finland's El Corte Inglés – for woolly jackets, thick socks and warmer shoes.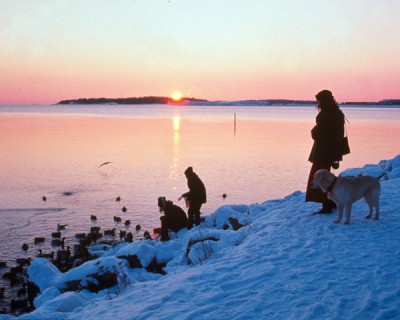 This year the weather was, thankfully, more summery, though still unpredictable. A bit like Melbourne and "four seasons in one day". That means leaving the hotel in the morning in T-shirt, shorts and sandals, but also equipped with umbrella and warm jacket and prepared to return later to change into jeans and shoes.
Once that's sorted out you're ready to explore one of the most intriguing cities in Europe.
Sweden's King Gustav Vasa founded Helsinki on the mouth of the Vantaa River in 1550 to compete with Tallinn for Baltic Sea trade. It was moved to its current site in the mid-17th century and became part of Russia in 1809, before Finland gained independence in 1917. In 1952, it hosted the Olympic Games, gaining a reputation as an efficient and friendly city, and it received further international accolades in 1975 as host of the Conference for Security and Co-operation in Europe. Today it has a population of about 560,000 (Finland's total population is 5.2 million).
The first thing to do before setting out to explore Helsinki's sights is visit the main tourist office near Market Square at the port, for maps, brochures and general advice – all taken care of in a very professional and affable manner.
The office is at the end of the city's emblematic Esplanade Park – a vibrant and colourful promenade for tourists, and a popular place to relax, picnic and sunbathe for city locals – while nearby is Senate Square, surrounded by Neo-Classicism buildings and crowned by the 200-year-old Lutheran Cathedral.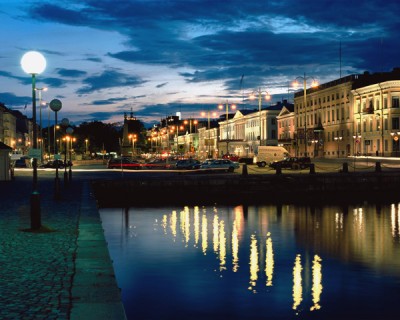 Public transport is efficient, clean and punctual so visiting Helsinki's many and varied attractions is trouble-free – and moderately priced.
Four that should be on your list are:
Suomenlinna Maritime Fortress – a UNESCO World Heritage Site since 1991, built on six islands off Helsinki by the Swedish state in 1748 to counter a growing threat from Russia. Reached by boat from Market Square.
Serasaari Island – a recreation area and open-air museum 15 minutes from the city centre by bus, offering an enthralling look at traditional life in the Finnish provinces.
Helsinki Zoo – on Korkeasaari Island (reached by bus, or boat from Market Square), with animals including such native fauna as flying squirrels (not found wild in any other EU country) and all four of mainland Europe's large predators: brown bear, wolf, wolverine and lynx.
And Market Square itself – a bustling street bazaar offering everything from exquisite berries and exotic seafood to handcrafted silver and wood-carved souvenirs.
Dining out in Helsinki is not prohibitively expensive but drinking is. If you like a drop or few, you'll probably find the alcohol costs more than your meal. A delectable rack of lamb ribs in one restaurant, for example, was half the price of a bottle of Lindemans Cawarra (the latter: €27).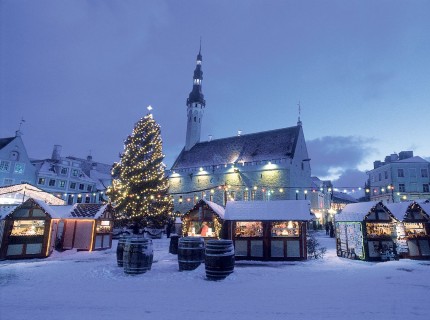 And on to Estonia…
One of the other main attractions of Helsinki is that it is just 80 kilometres south across the Gulf of Finland to Tallinn, capital of new EU member Estonia.
There are more than 30 ferries and high-speed boat connections between Helsinki and Tallinn daily, but some days are better than others to travel. And not for the weather! It is estimated that imports currently account for one-fifth of the alcohol consumed in Finland and a significant proportion of that comes from Estonia, where prices are considerably cheaper.
A substantial amount of alcohol is also drunk by young Finnish men on weekend binges in Tallinn, and the process begins with a vengeance on the cross-gulf ferry. So avoid travelling on Fridays or Saturdays, or opt for the Copterline service – at least in one direction. And invest in a taxi to get you to the heliport; they're in the boondocks in both Tallinn and Helsinki.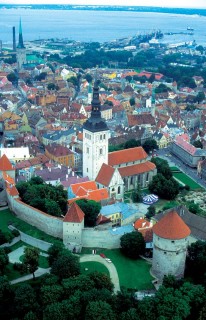 The journey, by 12-seater helicopter, takes just 18 minutes and, if you don't have too much luggage on the way back, you can stock up on duty free at the heliport in Tallinn (145 Kroons, or about €10, for a bottle of Marques de Caceres).
We only had one night in Tallinn so booked the whole package through Copterline: €109 each (€99 for under-18s) for ferry, helicopter and accommodation at the charming Olevi Residents hotel.
Finland might have champion air guitarists and wife carriers, but Estonia has an even more momentous claim to fame: in 2002 it hosted the Eurovision contest. For some that's a good reason for staying away but the contestants have long since gone so it's now safe to visit.
At just over 45,000 square kilometres, Estonia is the smallest and most northerly of the three Baltic states (also including Latvia and Lithuania). It became a constituent part of the Soviet Union in 1940, was occupied by the Germans during the war, and returned to Soviet control after 1945. Pro-independence and reform groups gained strength during the so-called "Singing Revolution" in the late 1980s as perestroika and glasnost took hold in the Soviet Union, and independence was restored in 1991.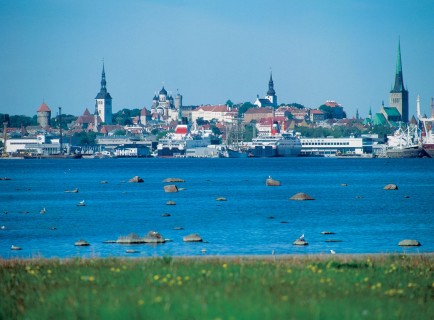 Located on the western tip of the country, and a former major mediaeval port and trading centre, Tallinn is today a high-tech cosmopolitan city with a population of over 400,000.
If, like us, your time is limited, you probably won't be able to get much further than the mediaeval Old Town. A web of winding cobblestone streets and buildings, dating mainly from the 11th to 15th centuries, it has been preserved almost in its entirety and was listed as a World Heritage Site in 1997.
For centuries the square in front of the Town Hall was the city's main marketplace, doubling as a centre for executions and other celebrations; these days, at least in summer, it is filled with outdoor cafes and restaurants, open-air concerts, handicraft fairs and mediaeval markets.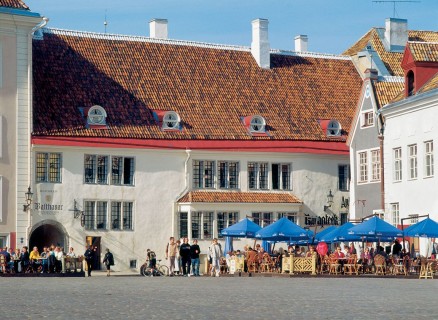 You won't be able to enjoy executions anymore, but the square is the perfect place to people-watch (if young Finnish men ever managed to arrive sober they would realise that Tallinn has some very attractive young women, not only cheap booze) while enjoying a drink. Just one minor word of advice: if you order a glass of whisky, and didn't have Chivas Regal in mind, specify something else because the chances are you'll be given Chivas – even if at €5 for a long shot it's not too pricey, at least compared with Finland. With your budget relatively intact, you can then check out the surrounding streets filled with gift shops interspersed with fashionable boutiques.
For dinner, we overlooked our normal policy of avoiding hotel restaurants, and enjoyed an excellent meal at Olevi's French-Italian establishment – eating and drinking copious amounts for just €60 for three.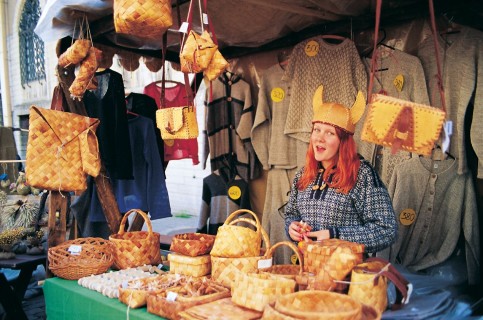 Post-prandial entertainment in the Old Town ranges from sophisticated cigar lounges to nightclubs, often just metres apart, allowing you to amble leisurely along lamp-lit streets looking for the place that suits your mood.
One day and night was okay for a taste of Tallinn, but its full flavours need to be savoured over a much longer period. And then there's the rest of Estonia: seaside towns, nature parks, forests, folklore, manors and castle ruins….
A good reason to return – before they bow to Finnish pressure to raise alcohol taxes and provided they're not holding Eurovision again.
FACT FILE
Helsinki Tourism
Tallin Tourism
KEY PHRASES
Finns are usually fairly fluent in English in Helsinki and other tourist areas but not always in the country or among older generations. So here's a few essential phrases to help you get by: · yksi (pronounced uiksi) olut / siideri – one beer / cider · kaksi olutta / siideriä – two beers / ciders · kolme olutta / siideriä – three beers / ciders And to be especially sociable: kippis (cheers). Then vesi (water) if it's the day after (not to be mistaken with veski – toilet – but no doubt also needed). Finns don't have a word for please, but sometimes add kiitos (thank you) after ordering a drink. If you've already had too many olutta or siideri, and your memory is failing you, you can also resort to "samanlainen" (another one of the same).