1 Jul
Generational change as founder hands over to son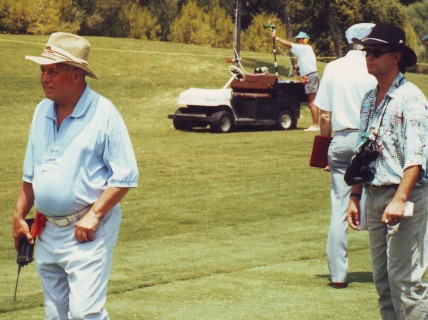 (Reprinted courtesy of Andalucía Golf – July 2005; andaluciagolf.com)
AT 75, and after an eventful and exciting era, Jaime Ortiz Patiño has decided it's time to hand over presidential responsibility for Valderrama Golf Club to his son Felipe – a 41-year-old lawyer with extensive experience in the world of business and golf.
When the change occurs, within a few months (end of 2005), Don Jaime will dedicate his time to supervising the maintenance of his famous and highly acclaimed course, considered by the specialist press and a panel of international golf personalities as the best in continental Europe.
Don Jaime was born in Paris in 1930. He lived in France for nine years before moving to England to study at a boarding school. He remained there for a year, until the school was bombed during World War II, and two students died. "My father took me out of there, together with my brother," he recalls, "and the three of us went to the United States."
The rest of the family had abandoned Paris and, after passing through Spain and Portugal, began their voyage to North America. "My grandfather was the Bolivian ambassador in Paris, and my father was second in charge in the embassy."
He remained in the United States until the end of the war. Later, he lived in Argentina because his grandfather wanted to be closer to Bolivia – where the authorities refused to allow him to return. From there, young Jaime travelled to Switzerland, to study engineering at the University of Lausanne. From then on he established his residency in Europe, though in the '60s he spent some time in the United States and Canada working in the family business. Don Jaime was the last president of the Patiño Mining Company, which included copper and tin mines, among others, as well as metallurgical foundries.
"I wanted to retire in 1980 but couldn't sell everything, so I had to wait until 1982," he explains. "Then I didn't have much to do, though I looked after the Patiño Foundation; we had the hospital in Boston, Harvard… but no day to day business."
It was during that period when Valderrama entered his life. "In 1985, they put the course up for sale and, with a group of friends, we decided to buy it. It was then called Las Aves."
He was fond of golf, but the sport he preferred from a young age was tennis –  which he excelled at internationally. "I played the European Tennis Circuit in Switzerland, France, Italy, Germany, Austria, Monte Carlo. I won the odd tournament and played the first round at Roland Garros. But I never managed to play Wimbledon, in spite of playing qualifying three times." A back injury ended his tennis career at 26, and that's when he began to play golf – a sport which was compatible with his injury. "But I didn't have the time, because I was working. Until 70 years of age I've been working. I got down to a six handicap, but later my work prevented me from playing more – neither tennis nor golf, or any sport. When I built my house in Sotogrande in the '70s, to spend summers with the children, I began to play golf again more regularly. Later, I sold my mines and retired, in 1982, and then I could come to Spain more often and play golf."
His house in Sotogrande was the fulfilment of a long-held wish. "I always wanted to have my house on a golf course; it was a dream I had from a young age. At 20 I wanted that."
Now with more free time, and once he had bought Valderrama, he decided he should become more involved in the world of golf – in every way. "Straight away I told myself I had to learn how to maintain a golf course. So I went back to school. I went to the University of Michigan, studied a lot with the USGA (United States Greenkeepers Association) and teachers I came across, to learn how to maintain a golf course and how to make the grass grow and all that."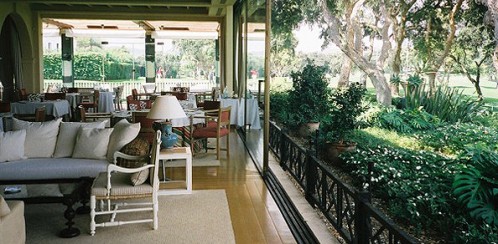 As he was keen to be completely involved, he decided to become Valderrama's greenkeeper. "And there you have the result," he says, without any false modesty.
However, accustomed to an extremely active life, he wanted his course to be the venue for major international tournaments. "We began with the Volvo Masters, later we got the Ryder Cup, the World Golf Championships… and let's see what we do now."
It's at this moment of the interview that he announces his transcendental news. "I'm going to pass on the baton to my son because I've been here for more than 20 years and I believe the moment has arrived. Hopefully he'll take care of it well because it's a very complicated job. Numerous tournaments are held here, you have to see the people, get to know them, become involved in the tournament atmosphere… I'll continue to look after the maintenance of the golf course, possibly until 2010, but not the club presidency. Spending the day here in the office, receiving people and giving interviews… I'm going to stop that. When my son is president, I won't do this anymore and I'll start playing again and travelling a little more – because I want to, not because I have to – and at my leisure.
Don Jaime is a member of 25 golf clubs around the world, five of them in the United States. He would have liked to be a member of Augusta National, venue for the US Masters, "but there they invite young people, or people who play golf very well, and there are very few foreigners, just five or six". In any event, he has played there numerous times and can continue to do so because he knows many members at the famous club. There's also a club in California, "very, very good", where he has played a couple of times and would like to become a member. It's Cypress, next to Pebble Beach, and is considered the second or third best course in the United States. "It's a very pretty and pleasant place."
Asked which person from the world of golf has had the most impact on him, he says it is "difficult to answer" but eventually names Sir Michael Bonallack, who – for 20 years – ran the Royal & Ancient, the organisation which, together with the USGA (United States Golf Association), oversees golf rules. "It's a very complicated job, which requires a great deal of diplomacy. He's a wonderful person with great human qualities and very honest. When he was young he was a fine player, the best amateur in England for many years." He also has a special affection for Tim Finchen, commissioner of the US PGA Tour. "He's an extraordinary man who has run the PGA Tour very well, increasing prizemoney and attracting players. He's done a phenomenal job."
The player he most admired was Ben Hogan, whom he met in Texas after he had left the game. "I'd seen him play in Carnoustie when he won the Open. I was very young and it impressed me how he practised and played: it was incredible.
"I also admired Byron Nelson a lot: he won 11 tournaments in a row and I met him during the war. And another player with an incredible game was Gary Player, a phenomenon in spite of his low stature. His will to win was impressive; he never gave up."
The Valderrama president yearns for those days. "Today, golf is losing a lot because of the enormous distances you can hit a ball with the new clubs and balls. It's losing the finesse that golf used to have. It's extraordinary to see what the great players did before with those clubs and balls. Now players are stronger physically, because they train more, but something has to be done to the current clubs and balls so we don't lose the essence of this sport."
As far as his favourite golf courses are concerned, Don Jaime says the best links is Muirfield, while in the United States he names Pine Valley and Cypress, and in continental Europe – it couldn't be any other way – Valderrama.