1 Nov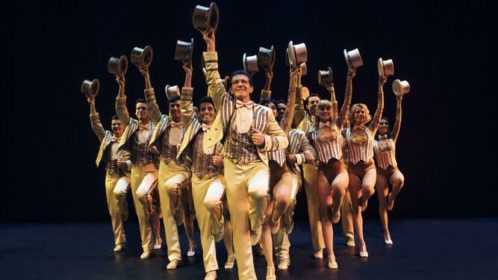 Article reprinted courtesy of Home & Lifestyle Magazine
It has been a long time coming. Four decades after he moved from his Málaga birthplace to Madrid to (eventually) become Spain's most celebrated international actor, Antonio Banderas is back with his own local theatre and inaugural performance.
The actor, director, producer and fashion designer has actually been back for a while, having bought a penthouse in the city (not far from where Málaga's other famous son, Pablo Picasso, was born) and – since suffering heart problems in January 2017 – spending more time on the Costa del Sol than Hollywood. 
Now, his dream of leaving an even more lasting local legacy is being realised with the inauguration of the Teatro del Soho CaixaBank in the heart of the city, and a 45-show run of the musical A Chorus Line.
Banderas's Málaga compatriots showed their support immediately. Just 24 hours after the ticket office opened, 20,000 seats had been taken up, around half the total capacity for the season scheduled to run from 15 November to 19 January. Afterwards, unless the theatre management decides to extend this run in Málaga, the show (believed to be the first major theatre performance of A Chorus Line in Spanish anywhere in the world) is due to be taken on a world tour. 
Set up as a private initiative by Banderas and other entities including CaixaBank – to promote professional productions and performing arts education – the theatre has capacity for 900 people. It plans to host its own and other productions, both national and international, and its programming will be linked to complementary activities such as conferences, exhibitions and workshops by professionals, sharing their experience with future talents and helping to expand public knowledge of the world of theatre.
One of the theatre's key cultural pillars is its close association with education. To that end, agreement has been reached with the Málaga Advanced Academy of Performing Arts (Escuela Superior de Artes Escénicas de Málaga or ESAEM) to create a nursery of future actors and a second theatre hall with 300 seats in a multi-purpose structure (mobile stands) for smaller-format projects. The theatre will also have its own bar-restaurant, an additional space for organising special gatherings and presentations, and a new leisure corner in the Soho neighbourhood of central Málaga city.
A Chorus Line was a multiple award-winning Broadway musical that premiered in 1975, conceived, directed and choreographed by Michael Bennet, with a libretto by James Kirkwood and Nicholas Dante, music by Marvin Hamlisch, and songs by Edward Kleban.
The Málaga show is a revival of the Broadway production, co-directed by Baayork Lee (who played one of the characters in the original production, Connie Wong) and Antonio Banderas, with 26 performers on stage and a live orchestra under the musical direction of Arturo Díez Boscovich. The theatre manager is Lluis Pasqual.