7 May
Seve Ballesteros dies "peacefully" at home
THE PLAYER who did more than any other to raise golf's profile in Spain has died at his Pedreña home after a valiant battle against the debilitating effects of a brain tumour.
In a press statement released by his family, it was announced that he had passed away at 2.10 am (Spanish time) "peacefully surrounded by his family".
The family said they were "very grateful for all the support and gestures of love that have been received since Seve was diagnosed with a brain tumour on 5 October 2008 at Madrid Hospital La Paz." The day before, they had announced that the 54-year-old's "neurological condition has suffered a severe deterioration".
When José María Olazábal and Miguel Ángel Jiménez – competing in the second round of the Open de España at El Prat in Cataluña, were informed of this they reportedly broke down in tears and were unable to speak.
Open de España spokeswoman María Acacia López-Bachiller told Associated Press, "We tried to talk to them after their rounds but they couldn't even speak because they were crying. They couldn't even talk. This had to be the saddest competition in terms of ambience today. I've never seen anything like it."
Other players on the US PGA and Champions Tours added their tributes.
Nick Price said, "He did for European golf what Tiger Woods did for worldwide golf. The European Tour would not be where it is today if not for Seve Ballesteros. The guy, he was an icon, just an incredible golfer. I always said most of us could shoot 65 about 30 to 40 different ways. He had about 10,000 ways of shooting 65."
A tearful Paul Casey said, "He really blazed the trail for Europeans, not only in the Ryder Cup, but also on the PGA Tour in how he played at Augusta and his victories over here. We owe a huge amount to him."
Sergio García added, "He was a game-changer, not only for Europe, but for golf itself when he came out. Obviously, there was Jack and Arnie and all those guys, but he played differently. To be able to come from Spain and do what he did, it was something amazing."
"He had a remarkable effect on us," said Padraig Harrington. "That's why we wanted to play golf."
Recalling Seve's last Ryder Cup match in 1995 at Oak Hill, his opponent in the singles that day, Tom Lehman, said the Spaniard had not hit a single fairway on the front nine but remained in the match and eventually only lost on the 15th.
"Nobody could have done it form the places that he hit it. It's the best nine holes of golf I've ever seen, that front nine. He shot even par. I would have shot probably nine-over. I think his body language was the strongest of anybody, maybe save Tiger in recent years. I've always said that his body language said, 'Hey, I may have hit a really crappy shot right there, but if you miss this next one, you'll miss the greatest shot ever hit.' That's just the way he walked, the way he acted, the way he carried himself. He never seemed to ever doubt his ability."
Players at El Prat asked if they could wear black ribbons during the third round of the Open de España, and it was announced there would be a minute's silence at 2.45 pm and the flags would be at half-mast.
European Tour chief executive George O'Grady said, "This is such a very sad day for all who love golf. Seve's unique legacy must be the inspiration he has given to so many to watch, support and play golf, and finally to fight a cruel illness with equal flair, passion and fierce determination. We have all been so blessed to live in his era. He was the inspiration behind the European Tour."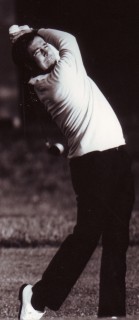 Ballesteros won 87 titles worldwide during his career, including three British Opens (1979, 1984 and 1988) and two US Masters (1980 and 1983). He played in eight Ryder Cups, winning 20 points from 37 matches, and captained Europe to victory against the Americans in 1997 at Valderrama – the first time the competition had been held outside the UK or the US.
He was the second world number one (after Bernhard Langer) when the official world rankings were launched in 1986, holding top place for a total of 61 weeks during his early career; and headed the European Tour order of merit five times.
Seve appeared in public for the first time following the surgery, in May 2009, receiving a standing ovation when he went to watch his local football team Racing Santander. He had called his battle against the tumour the "hardest challenge of my life" but also remained ubeat under the circumstances, referring to being given the "mulligan of my life".
He underwent four operations to remove the tumour and reduce swelling in his skull, as well as chemotherapy. He made various public appearances in 2009, looking thin and pale, but had rarely been seen in public since March 2010, when he fell off a golf cart and hit his head on the ground.
During this time, he focused his efforts on promoting the Seve Ballesteros Foundation in its fight against cancer.
Born on 9 April 1957, of humble origins – his father was a greenkeeper during an era when golf was still considered an elite pursuit in Spain – he honed his skills near his Pedreña (Santander) home, at seven years using a cut-down seven-iron to hit stones on the beach.
He won a caddies tournament at 12, with a score of 79; and while still a teenager finished second in the 1976 British Open. Three years later, he became the youngest winner of the British Open; a feat he matched in the 1980 US Masters (before a 21-year-old Tiger Woods beat his record by two years). He was the first European winner of the Masters.
Seve was divorced from his childhood sweetheart, Carmen (of the Botín family that owns Banco Santander), in 2004 after a 16-year marriage. They had three children, Baldomero (1990), Miguel (1992) and Carmen (1994). Their relationship deteriorated irrevocably in the late 1990s, when it was said he was unable to accept that his career was on the wane.
Early in July 2007 he denied reports that he had tried to commit suicide following the death of a close female friend in a car accident. He officially retired on 16 July 2007 after a long struggle with recurring back pain, concentrating on his business interests through Amen Corner , the tournament promotion company he and his three fellow golf pro brothers set up in 1986.
"I no longer have the desire and I am no longer willing to give away the things I did before," he said at the time. "I gave away all my teenage years and fought day and night to give my all and focus 100 per cent on my golf game."
Rather poignantly, bearing in mind the tragedy of his last three years, he added, "I have a number of good years ahead of me and want to spend some time with my three children and friends and family."
Unlike other contemporaries, he was denied the chance of competing on the seniors tours and further embellishing the Seve legend.
Looking for the next Seve
Video launch by Seve