21 Jun
Olazábal unveils Valle Romano plaque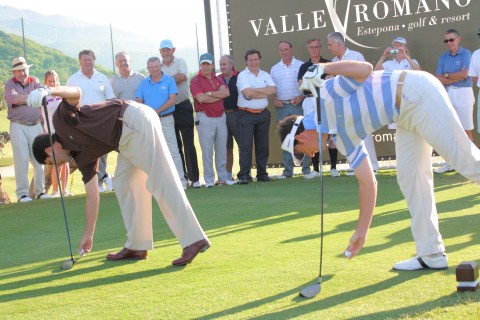 DUAL US MASTERS champion José María Olazábal represented Severiano Ballesteros when Valle Romano inaugurated their installations with a pro-am tournament and official opening ceremony.
A visibly emotional José María Olazábal said, "I feel very moved to be unveiling the inauguration plaque on behalf of Seve. We have a very close relationship. Moreover, his attitude and example on the course have always been admirable, and even more so now as he deals with his present situation."
For his part, Severiano Ballesteros, the official image of the development, who was unable to travel to Estepona, sent a moving message to mark the day. "Dear friends of the Valle Romano Golf Club, I would have loved to have been able to be with you on such an important day, for the inauguration of such a great course. However, if I am not with you now, as I would have liked to be, it is for reasons which you all know. I would like to wish you all the best and that you are very happy – and score many birdies!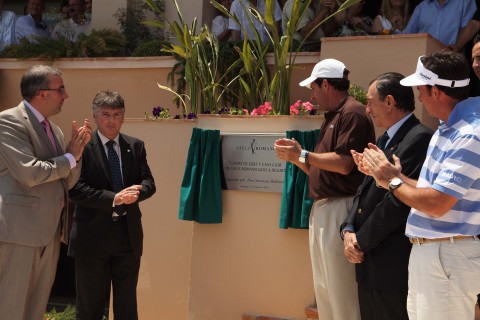 The inauguration event and subsequent press conference were presided over by Xabier Iturbe, chairman of Caja de Ahorros de Guipúzcoa-San Sebastián (Kutxa); David Valadez, mayor of Estepona; Ángel de la Riva, president of the Royal Andalucian Golf Federation; José María Olazábal and fellow European Tour champion Gonzalo Fernández-Castaño; course designer Cabell B. Robinson; and Ildefonso Esquivel, Valle Romano course manager.
Fernández-Castaño noted of the course, "You have to use the 14 clubs in your bag, because it's a demanding course, although entertaining at the same time, making it enjoyable for both the professional and any amateur. What I like most is the design of the greens with the clearly differentiated platforms – the 10th is a marvellous par-five – and the par-threes. If you play well you'll make many birdies."
Added Iturbe, "Kutxa is an institution which is hugely involved in golf, as well as other sports such as show jumping and Basque pelota. We have made a big investment in Valle Romano, swimming against the tide in these present times. However, we will be continuing with this policy, fulfilling our commitment to make this project work. Our aim is for Valle Romano to become a success story in the world of golf."
Cabell B. Robinson defined Valle Romano as "a very versatile course, which can be adapted to all levels of play. It is even ideal for competition at the highest level, though the problem we have is length. We have not been able to make it longer because of the topography of the plot. I'm very pleased with the end result of the course. Furthermore, the promoters have shown a lot of courage going ahead with this project in the current times. The first time I saw this land, around 10 years ago, I was worried because of the rugged terrain of the estate. I have to say the current developers have collaborated very well with me, facilitating a highly satisfactory end result of which I'm very proud."
As for the future of golf, he said, "At the moment the Costa del Sol is completely at a standstill due to the real estate crisis and also the new golf decree (by the regional government). I believe the authorities should ease the requirements they insist on in the decree because, in my opinion, there is no course on the Coast that fulfils this norm. Between the decree and the crisis, I have my doubts that another course can be built here."