2 Jun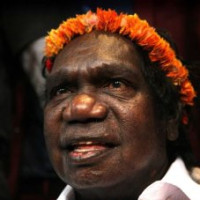 For Australian visitors to the 1992 Expo in Sevilla, the Kangaroo Pub became an iconic meeting point, not to mention an excellent haven from the summer heat to enjoy a chilled beer.
As the most popular watering hole at the universal exhibition – for both local Spaniards and international visitors – it also became an eminently sociable and convivial focus of cultural interaction.
This was highlighted in memorable fashion on 18 July – Australia's designated day at the Expo – when members of Aboriginal rock group Yothu Yindi, including singer-songwriter, guitarist and educator Mandawuy Yunupingu, performed an impromptu jam session on stage.
The previous year the band had released their remarkable single "Treaty" and second album "Tribal Voice" – which still holds the most cherished pride of place in OzinSpain's CD collection.
Named Australian of the Year in 1992, Mr Yunupingu went on to become an inspiring figure for all Australians, across the still tragically wide cultural divide, before succumbing to kidney disease on 2 June 2013, aged just 56.
At his state memorial service in north-east Arnhem Land, friends, family and leading politicians – including Paul Kelly, who co-wrote "Treaty", Midnight Oil frontman and then federal Education Minister Peter Garrett, and newly re-installed Prime Minister Kevin Rudd – reflected on his many achievements in championing indigenous and non-indigenous reconciliation.
Deeply saddened by the loss of one of his oldest friends, Yothu Yindi band manager Alan James noted, "He introduced me to indigenous culture. He was that rare person who had a foot in both worlds."
Added Yothu Yindi band mate Witiyana Marika, "He wanted to achieve for his people a treaty, for rights for the people, equal rights. He inspired other people to be like him. He wasn't a politician, but (will be remembered for) the understanding he took to the people, to the world, through music."