3 Jun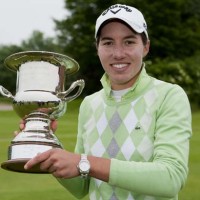 When Pamplona-born Carlota Ciganda won the Spanish Women's Professional Championship in April at Talayuela (Extremadura) she put the finishing touch to an unprecedented run of national amateur titles in every age group from 2000 to 2008, including the open category in 2006, 2007 and 2008.
During an extraordinary amateur career she also won the 2007 British Amateur and 2004 and 2008 European Championships, became the first player to win back-to-back Pac-10 Championships (2009 and 2010) while a student at the Arizona State University and, aged just 14, competed against the professionals in the 2005 Tenerife Ladies Open. Still an amateur, she was eighth in the 2007 Open de España and third in the 2008 Tenerife Ladies Open.
In her first start as a pro in June 2011, she finished second to Becky Brewerton at the Tenerife Ladies Match Play (a non-official event on the Ladies European Tour Schedule) and in November won the Murcia Ladies Open on the LET Access Series satellite circuit. She tied for 34th at the LPGA Final Qualifying Tournament, earning "Priority List Category 20" status for the 2012 season, and was third at the LET Final Qualifying School tournament. Now, just two days after turning 22, she has broken through for her first main LET victory, the Deloitte Ladies Open in Rotterdam (Holland).
"It's a very good feeling and I am very happy because I played very good golf. I was feeling calm and I was fine," she said after being presented with the trophy. "Like yesterday, I started with a birdie on the first hole and made another one on my fifth and then ninth, so I was three-under. Then my bogey was on hole number 11. I three-putted and missed a short putt but I was hitting lots of fairways, lots of greens. I was keeping in the present and playing great golf. It's very big because it's my first win on the Ladies European Tour so I'm very happy and hopefully I can win more."