26 Apr

The design maestro responsible for putting the soul and heart into one of the Mediterranean's most chic, and state-of-the-art, new marinas was the guest of honour at a lavish weekend of inauguration celebrations.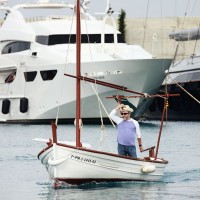 During an entertaining meeting with the press, Philippe Starck said he had designed the commercial centre at Port Adriano as "a place to make people happy". Revealing his own long-time love affair with the sea, he said he was inspired to create a boating haven that features "the elegance of intelligence… designed in terms of aesthetics and functionality… The idea was to make a real harbour, not Disneyland… the right size and in harmony with the island landscape. The Dubai style is not my style."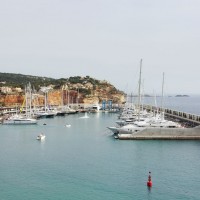 He said he was delighted to have full support for his vision from Ocibar, the nautical-leisure project management and construction company that developed the €90 Port Adriano project.
As Antonio Zaforteza, CEO of Ocibar, noted, stressing the company's determination to develop a major project aimed at attracting high-quality tourism, both national and international, "It's not just one more harbour. We can affirm that our marina is the only new facility at a premium Mediterranean site in the last 30 years."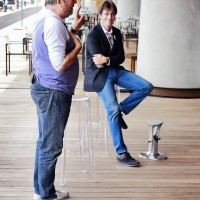 The project comprises 25,000 square metres of berths, 82 mooring points for yachts and super yachts, of between 20 and 80 metres (and up to 100 metres in summer), a 10,000 square metre technical area, and a dry dock (with 250-tonne Travel-Lift) and workshops suitable for large boats.
This "concierge service" for boating enthusiasts and professionals includes running water, fuel service, waste water disposal and bilge water extraction at the moorings, data service, Wi-Fi and switchboard, security cameras and staff, storage space and power supply – all in tune with Starck's key objective to "prioritise the daily life of the marina and the people who visit it, over spectacular effects".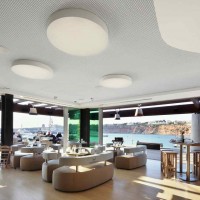 This is reflected in the "hidden" underground car-parking (a main condition for the celebrated French designer agreeing to take on the project), concealed cable on the piers, warm lighting, terraces in the sun and shade, an innovative air-conditioning system that uses the constant temperature of sea water to reduce CO2 emissions, optic fibre internet connection, LED lighting and SMS alerts to users informing them about incidents and news.
Zaforteza said Ocibar was also keen to ensure the marina did not become "static" and to that end was planning a special schedule of events for 2012, including a go-kart race and the Super Yacht Days (held prior to and during the inauguration weekend celebrations), and boat shows and regattas.
Designed as "a marina for everyone", catering for boats from six to 80 metres, Port Adriano offers clients a wide and varied range of services "with the aim of solving their needs and, above all, to make their stay in our port a unique experience".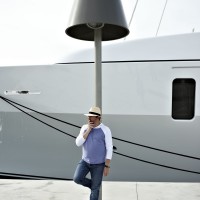 These include: boat sales, charter, services, storage, maintenance and repairs; mooring rental and sales; nautical school and diving centre; restaurants, bars and lounges; and fashion and accessories boutiques.
The Starck-designed commercial shopping extends over 4,000 square metres, with 40 business premises and over 600 parking places to complement the port's nautical facilities. To ensure "the correct interaction between the shopping area and the port zone", the operating company manages all the premises on a leasehold basis, thus maintaining strict control over the quality of services provided.