27 Oct
Unfinished business at Valderrama
SEVE BALLESTROS went close in 1988. The late Spanish star finished second two shots behind Nick Faldo in the inaugural Volvo Masters at Valderrama.
Six years later, he was again second, a bogey on the last hole leaving him one short of Bernhard Langer's winning score and level with Vijay Singh. Miguel Ángel Jiménez was fourth that same year, having opened with a six-under 65 that included the first albatross carded in competition on Valderrama's notorious 17th hole.
José María Olazábal finished third in 1989, five behind winner Ronan Rafferty. A decade later, Jiménez became the only Spaniard to win the Volvo Masters, but it had been moved to Montecastillo in Jerez, as Valderrama focused on more important matters (1997 Ryder Cup and 1999 and 2000 American Express World Golf Championship).
Back at Valderrama one week later he was level with Tiger Woods after the 72 regulation holes of the 1999 WGC event but succumbed on the first extra hole of sudden-death.
In 2003, Carlos Rodiles was just as close, losing on the first hole of a play-off against Fredrik Jacobsen for the Volvo Masters title at Valderrama. He has never really recovered from that setback. This year he has played in only four European Tour events (three missed cuts and 16th in the Bankia Madrid Masters), failed to make the cut in three out of four Challenge Tour starts, and has slumped to a world ranking of 975. His chance to redeem himself at Valderrama will have to wait at least another year.
Then it was Sergio García's turn to suffer Valderrama angst: he lost a play-off against Paul Casey for the 2004 Volvo Masters title, was second by two shots behind Paul McGinley in 2005, and was joint runner-up with Luke Donald and Padraig Harrington in 2006, one shot adrift of Jeev Mikha Singh.
Olazábal and Ignacio Garrido were members and Jiménez non-playing vice captain of the European team that captain Ballesteros led to victory in the 1997 Ryder Cup – but that doesn't really count. The bottom line is that no Spanish player has won an individual strokeplay title at Valderrama since its European Tour coming out in 1988.
Last year, in the inaugural Andalucía Valderrama Masters (the 21st and final Volvo Masters – 16 at Valderrama and five at Montecastillo – was held in 2008), the best-placed Spaniard was Jiménez (joint seventh), while García and Olazábal shared 10th place.
Now, in the 20th European Tour event held at the celebrated course, this season simply the Andalucía Masters, 14 Spaniards in a field of 96 will be attempting to overcome the Valderrama hoodoo.
"Valderrama is an unforgiving course and you need to hit great shots with all the clubs in the bag," said Jiménez on the eve of the tournament. "I'm striking the ball great, but not scoring my best. I haven't had a win yet this season so it's high time to start." His last Tour win was the Omega European Masters in Switzerland in September 2010.
Buoyed by his 11-stroke victory in last week's Castelló Masters, Sergio García is favourite to break his duck at Valderrama. "I'm delighted with my win at Castellón," he said. "It's been a great boost to my confidence. I love Valderrama. I've been three times runner-up on this course, and that really spurs me to try harder. I would love to win an event like the Andalucía Masters. I'm happy with my ball striking, although there's always room for improvement."
Also returning to form in Castellón after months of injury problems was Gonzalo Fernandez-Castaño, whose last Tour win was in the 2008 Insurance British Masters. "I feel pretty confident before this tournament, particularly because I did well last week," he said. "Playing well at Castellón lifted a load off my shoulders. I needed to prove myself, and now I feel that I am really back on track. Having spent six months injured, it was great to finish second last week. We Spanish pros are like a big family with a great atmosphere. We enjoy travelling together. Every year we take this group photo at Valderrama and I keep them all as a nice souvenir."
Álvaro Quirós, from the nearby village of Guadiaro and winner of the Omega Dubai Desert Classic in February, will have plenty of local support. "When you play so close to home it's very special," he said. "My family and a big bunch of friends will come to watch and support me, and I would hate to disappoint them. Hopefully things will turn out better this year."
Ryder Cup captain José María Olazábal has not won since the 2005 Mallorca Classic and admitted his form would need to improve if he were to get into contention this week. "It's always very special to come Valderrama, but I expect a tough tournament and I'm not playing well," he said. "This course is very challenging and we have a strong field with (defending champion Graeme) McDowell, Sergio, and all the rest. Sergio's win was sensational with such a fantastic score – it will mean a great step forward for him. Obviously Valderrama is an added motivation because of all the great tournaments played here. I shall never forget the '97 Ryder Cup under Seve. It was a very, very special week and I will treasure those moments forever."
The other Spaniards in the field are 2011 BMW International Open champion Pablo Larrazábal (he beat García in a six-hole play-off in Germany), Rafael Cabrera-Bello, Santiago Luna, Carlos del Moral, Alejandro Cañizares, Ignacio Garrido, Manuel Quirós, Carl Suneson, Álvaro Velasco.
The field has been weakened slightly by the absence of top players competing in the 30-man Shanghai Masters, where the winner will receive a cheque for $2 million out of the total $5 million purse, though no world ranking points as the event is not sanctioned by any of the official tours. They include Lee Westwood, Rory McIlroy, Louis Oosthuizen, Padraig Harrington, and 2011 Volvo World Match Play champion (at Finca Cortesín) Ian Poulter.
There are, however, several 2011 European Tour champions in the field: Martin Kaymer, the highest world-ranked player (seventh) teeing up at Valderrama (winner of the Abu Dhabi HSBC Golf Championship in January); three-time 2011 winner Thomas Bjorn (Commercialbank Qatar Masters, Johnnie Walker Championship at Gleneagles and Omega European Masters); dual winner Alexander Noren (Saab Wales Open and Nordea Masters); Raphaël Jacquelin (Sicilian Open), David Horsey (Trophée Hassan II in Morocco), Nicolas Colsaerts (Volvo China Open), Mateo Manassero (Maybank Malaysian Open), Thomas Aiken (Open de España in Barcelona), Robert Rock (BMW Italian Open), Thomas Levet (Alstom Open de France), Kenneth Ferrie (Austrian GolfOpen).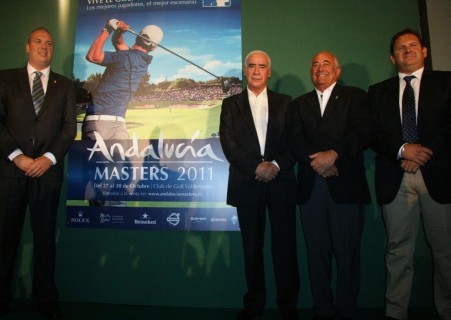 Graeme McDowell will be attempting to win his first title since last year's Andalucía Valderrama Masters; while also hoping to end their 2011 drought are brothers Francesco and Eduardo Molinari, Peter Hanson (winner of the 2005 Open de España at nearby San Roque) and Ross Fisher (2010 Volvo World Match Play champion at Finca Cortesín).
Former Volvo Masters champions (at Valderrama) in the field are Paul McGinley (2005), Justin Rose (2007) and Søren Kjeldsen (68th) (2008).
RACE TO DUBAI
The Andalucía Masters is the last opportunity in Europe for players to improve their positions in the Race to Dubai before the Tour moves to Asia, South Africa and the Middle East. Only the top 60 on the order of merit will gain a place in the season grand finale, the $7.5 million Dubai World Championship in December.
Current Race to Dubai positions of selected players in the Valderrama field:- Spaniards: Sergio García (11th), Pablo Larrazábal (12th), Álvaro Quirós (14th), Miguel Ángel Jiménez (16th), Rafael Cabrera-Bello (26th), Gonzalo Fernández-Castaño (89th), Ignacio Garrido (90th), Carlos del Moral (109th), Alejandro Cañizares (115th), Álvaro Velasco (129th), Manuel Quirós (164th), José María Olazábal (172nd), Carl Suneson (236th), Santiago Luna (267th). Australians: Richard Green (53rd), Marcus Fraser (69th), Brett Rumford (113th), 2011 Saint-Omer Open winner (in France in June) Matthew Zions (123rd), Scott Strange (130th), Andrew Dodt (163rd). Others: Martin Kaymer (4th), Thomas Bjorn (7th), Alexander Noren (10th), Peter Hanson (18th), Francesco Molinari (21st), Mateo Manassero (22nd), Graeme McDowell (24th), Ross Fisher (45th), Thomas Levet (33rd), Eduardo Molinari (50th), Søren Kjeldsen (68th), Justin Rose (74th), Paul McGinley (147th).
RESULTS: García wins Spanish dual against Jiménez
(Photos: Fernando Herranz)