20 Jul
Festive inauguration of Carmen Steffens boutique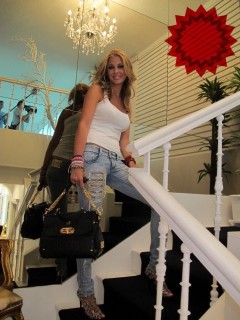 FRIENDS AND GUESTS will be able to enjoy lavish celebrations on 29 July when fashion accessories brand leader Carmen Steffens officially inaugurates its Marbella boutique.
Singers Mario Vaquerizo and Marta Sánchez will be present to help get people in a "magical" festive mood, and model Ariadne Artiles will be joined by brand creator Mario Spaniol, designer Monalisa Spaniol and Carmen Steffens representatives from Uruguay, Paraguay, Holland and Paris, as well as Marbella manager Carmen Domínguez.
One of Brazil's most successful international brands, Carmen Steffens (founded in Franca in 1993 and named after Mario Spaniol's mother) has over the years created a high-tech and hand-crafted collection of 3,600 shoe models and 1,400 handbags.
The Marbella boutique is located in Avda. Ramón y Cajal, where clients can find the latest collections as well as the Raphael Steffens line for men and CS Teen. Drawing on a "coquette" style from the 1950s and rustic chic from the 1970s, with a touch of surrealism, the spirit of the 2012 collection is described as "exuberant, maximalist and very sumptuous" – featuring a variety of materials, colours and textures.