27 Apr
Top Spanish bodega celebrates 25th anniversary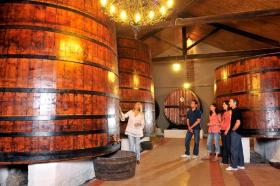 ANDALUCÍA'S links with Somontano bodegas were highlighted when tourism and regulatory council representatives celebrated the wine region's 25th anniversary with a special media lunch at the La Reserva restaurant in Málaga.
Mariano Beroz and Francisco Beroy, president and manager, respectively, of the Consejo Regulador de la Denominación de Origen Somontano, noted that Jerez company González Byass owns top Somontano bodega Viñas del Vero (which produces six million bottles a year); and the pioneering Bodegas Pirineos belongs to the Barbadillo Group in Andalucía.
The Somontano Denominación de Origen area comprises 34 bodegas and more than 500 wine-growers.