27 Mar
Andalucian title for former British Open champion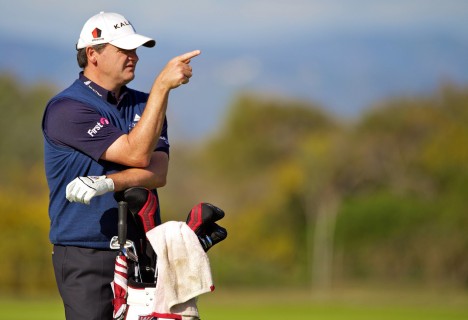 IT HAD BEEN a long and frustrating nine years, but Paul Lawrie finally made it back onto the European Tour winner's podium with a scrambling victory in the Open de Andalucía by Turkish Airlines at Parador Málaga de Golf.
After winning the 1999 British Open at Carnoustie, the Scot had a nondescript 2000 before returning to winning form with victories in the 2001 and 2002 Wales Opens and 2001 Dunhill Links Championship, but then a long drought set in. He languished in 140th place on the final 2004 money list and was never higher than 40th (2008) as he fought his way back to the top echelons, accumulating six runner-up finishes along the way.
Coming into the 2011 Open de Andalucía, he was a lowly 272nd in the World Golf Ranking but he held his nerve after a shaky start (bogeys on the first two holes and another on the fifth) to card four birdies on the back nine and have the luxury of bogeying the 18th for a 12-under 268 and a one-stroke victory over Swede Johan Edfors.
The victory elevated him to 150th in the world ranking and 24th in the European Tour Race to Dubai with just over €200,000 in prizemoney for 2011 (swelled by his €166,660 cheque in Málaga). It was his seventh Tour title: he also won the 1996 Catalan Open and 1999 Qatar Masters.
Later, he said, "It's been a long time – 2002 seems a hell of a time ago. I've had a few second places in there, but all of a sudden we're there again. It was going pear-shaped a little bit, but you've just got to keep going – that's all you can do. I played lovely and the putter behaved better. I got on a nice run at the right time. I started hitting beautiful shots on the back nine… I must say that I felt under control even when I was above par at the start, and when you get into that attitude good things happen. I've always been a good putter, but these last years I couldn't get it into the hole. This week they went in."
Both Lawrie and Edfors won a place in the Volvo World Match Play Championship at Finca Cortesín in May.
FIRST ROUND: Rock and a hard place
Five players shared the lead on five-under 65s after the first round: 33-year-old Robert Rock, still seeking his first European Tour win as he closed in on 200 career starts; fellow Englishman Jamie Elson; and Swedes Johan Edfors, Oscar Floren and Rikard Karlberg.
Rock has been runner-up three times on the Tour, and actually collected a first-place cheque in the 2009 Irish Open as the winner, Shane Lowry (who finished at the bottom of this year's Open de Andalucía field), was still an amateur.
Thirty-year-old Elson, the son of 1973 Sir Henry Cotton Rookie of the Year Pip Elson, was on the same winning Walker Cup team (Great Britain and Ireland versus the US) as Graeme McDowell and Luke Donald 10 years ago, but is still seeking his first Tour win and, without a full card, only got into the Parador field thanks to a top-10 finish the week before in Sicily.
Edfors' three Tour wins all came in 2006; Floren graduated from last year's Challenge Tour; and Karlberg received an invitation from tournament promoter Miguel Ángel Jiménez, who thought it was "a shame" that the Swede had finished third in the Singapore Open last November, earning over €240,000, which would have put him close to the top 100 at the end of the main tour season if he had qualified to play in enough events.
SECOND ROUND: Veterans bid adios
With more than 20 players separated by just four strokes at the halfway stage, and those making the cut by the minimum margin (one-under) only seven strokes back from the leaders, the weekend shaped up as a particularly enthralling one.
Two-time Asian Tour champion and 2010 Asian rookie of the year Rikard Karlberg maintained a share of the lead on eight-under with Denmark's Jeppe Huldahl (winner of the 2009 Wales Open) and Maarten Lafeber (whose only Tour victory was his home Dutch Open in 2003).
Paul Lawrie was one shot back together with Elson and five-time Japanese Tour winner Tetsuji Hiratsuka – like Karlberg, a tournament invitee. England's 50-year-old Barry Lane remained in with a chance of becoming the Tour's oldest winner.
Gabriel Cañizares, one of Tour veteran José María's two sons in the field (Alejandro missed the cut after rounds of 73-68) carded a best-of-the-day 64, while Álvaro Quirós – at 21st, the highest world-ranked player in the field) bounced back with a 65 after an opening 71.
Pablo Martín, the young Málaga star who won the first event of the new season (the Alfred Dunhill Championship in South Africa) and 2009 champion Søren Kjeldsen were among those just making it into the third round on the one-under cut-off mark, but less fortunate were José María Olazábal (70-71), Darren Clarke (69-72), 2008 winner Thomas Levet (72-70), Colin Montgomerie (70-72), 2005 US Open champion Michael Campbell (74-73), Australians David Gaunt (71-69), Matthew Zions (69-71) and Richard Green (71-71), and tournament host Miguel Ángel Jiménez (72-73). The 1999 winner of the tournament when it was also held at the Parador, Jiménez has finished 24th, 19th, 14th, 55th and 124th since taking it over as promoter and host.
THIRD ROUND: Elusive 59 – almost
England's Kenneth Ferrie made the halfway cut with nothing to spare, but shot to a share of second with a European Tour record-equalling 60 on the third day. After an eagle and seven birdies on the first 17 holes he needed to hole his approach to the closing hole from the right-hand rough for a 59 and, amazingly, he nearly pulled off the feat – his ball trickling past the edge of the cup. It would have been the first 59 on the European Tour – there have been five on the US PGA Tour.
The 32-year-old two-time Tour winner (2003 Canarias Open de España and 2005 European Open), who wore a Superman belt when he led the 2006 US Open after three rounds, became the 14th player to shoot a 60 on the European Tour.
"It was unspectacular, but it added up to a spectacular score," he said later. "You'd expect somebody with such a low score to have holed putts and hit spectacular shots, but it was just a very steady round – lots of fairways, lots of greens and a lot of wedge shots to four or five feet which I managed to knock in. Some days you shoot 70 and you are doing cartwheels and are over the moon, but I don't feel I did anything above and beyond. I realised that if I finished birdie-birdie-birdie it would have been 59, but 16 and 18 are strong holes and if you get out of position on them you are going to struggle to make pars. My six iron at the last looked very good and when it landed I got a little bit excited, but I would gladly have taken 60 with three to play."
Paul Lawrie had a bogey-free, equal best-of-the-day 65 to take a one-shot lead into the final day; as overnight leaders Rikard Karlberg, Jeppe Huldahl and Maarten Lafeber slipped down the field with over-par rounds.
FINAL ROUND: Roller-coaster ride
Englishman Mark Foster was, like Paul Lawrie, seeking his first victory in more than 200 European Tour starts and with two quick birdies he took the early lead from the Scot, who had begin the day one ahead. In the end he slipped to a two-over 70 and a share of fourth place with Jeppe Huldahl and Raphaël Jacquelin.
Keith Ferrie was unable to maintain his sparkling form of the previous day, requiring 15 strokes more and slumping to 11th place with, among others, Rikard Karlberg.
A three-putt bogey on the 15th thwarted Stefan Edfors' chances of victory after he had drawn level three times during the final round, though he managed to hold on to second and relegate Chilean Felipe Aguilar to third.
Valencian José Manuel Lara stepped on to the 18th tee just one shot behind Edfors but hit his approach over the green, past a TV tower, through the spectators and out of bounds by about two palm trees, and ended up with a triple-bogey seven. A par would have given him third place; instead he finished eighth, though still top Spaniard and winner of the Osborne trophy. Jiménez later consoled him, saying he had played well and the mishap on the 18th had been because he played his approach "courageously". Lara himself noted that it showed Spanish galleries are "very, very legal", suggesting that if the same thing had happened to Tiger Woods, for example, in the US, an "espabilado" (bright spark) would have kicked it back.
Other players: 18 Maarten Lafeber, Tetsuji Hiratsuka (275); 23 Jamie Elson (276); 40 Robert Rock, Oscar Floren (279); 45 Gabriel Cañizares, Barry Lane, Paul McGinley (280); 51 Álvaro Quirós (281); 62 Søren Kjeldsen (283); 63 Pablo Martín (284).
Photos: Golffoto.com