31 Oct
McDowell last man standing at Valderrama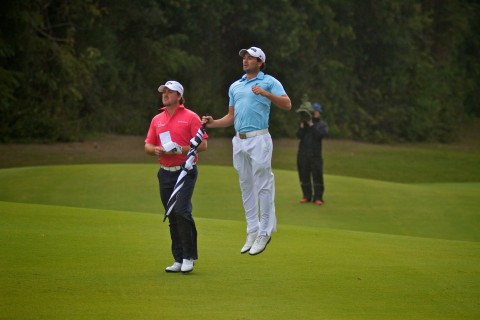 By PEDRO BOLICHERO
THE UNIVERSAL public view by players is that they relish the opportunity of teeing up at Valderrama. Privately, many also dread it. Of course, while golf is supposed to be fun for us lesser golfing mortals, for the game's elite it is just another day at the office – and, as in any job, some days are better than others. Or, at Valderrama, worse than others.
For those teeing up in the inaugural Andalucía Valderrama Masters, the days at the office had been mostly good this season. All of those gaining a place through their position on the Tour money list had won at least €300,000 so far this season; the leading 20, over €1 million (with pacesetter Martin Kaymer topping €3 million).
We're not talking about minimum wage here so, even though most fans like to see magnificent shot-making with a glut of birdies, eagles and maybe even a rare albatross (there had been two of the latter during the 16 years of the Volvo Masters at Valderrama, by Miguel Ángel Jiménez and Graeme McDowell), we also have a perverse pleasure in seeing them under the cosh. Not every week, but at least when they visit Valderrama.
Bernhard Langer might have carded a nine-under 62 in the second round of the 1994 Volvo Masters at Valderrama, but most players – even the Tour's best – are relieved to trudge off this course with a par 71. In fact, any player achieving that feat in all four rounds of the Andalucía Valderrama Masters would have finished joint fifth and won €116,100 for their efforts.
After the final Volvo Masters at the end of 2008, Valderrama was off the European Tour schedule last season, but it returned with a new tournament (sponsored, owned and run by the Junta de Andalucía – regional government) and still at its most fearsome, especially when the wind blows (which it did).
Some players may have been optimistic about the safety of going back into the water as they headed to Sotogrande, hopeful that perhaps – just perhaps – it wouldn't bare its teeth of old after the hiatus. And there were indications of a more benign Valderrama on the first day.
Pablo Larrazábal, winner of the 2008 French Open but still not quite in the highest echelon of Spain's strong Tour contingent, shot a five-under 66 to lead by two after the first round but he was realistic – perhaps too realistic – about the exalted situation in which he found himself. "Being leader after the first round does not mean that much, but what is important is to lead on Saturday and Sunday… You need lots of patience; par is a good score." He followed that with 77-76-78 to eventually finish an impatient 47th.
McDowell, the 2010 US Open champion, followed his opening 68 with a 67 to take a two-shot lead at the halfway stage, his nearest rival being fellow Northern Irishman Gareth Maybin, still seeking his first Tour victory. McDowell was also in a cautiously realistic frame of mind. "At Valderrama you've got to stay patient and focused."
At the end of the third day, Maybin had drawn level with McDowell at the top of the leaderboard, even if the scoring was unspectacular. "It can be pretty brutal when the wind blows, so to shoot under par (70) was a good result," enthused Maybin.
The winds remained just as brutal on the final day, and few observers believed the winning total would remain at the Northern Irishmen's overnight best of six-under.
In the Celtic Manor Wales Open in June, McDowell closed with a nine-under 63, the lowest last-round score by a winner on the 2010 Tour. Two weeks later, at Pebble Beach, he carded a three-over 74 on the final day to win the 2010 US Open – which was the highest final-day total by a Tour winner (the event is co-sanctioned by the European and US Tours).
At Valderrama, he was also able to finish with a three-over 74, bogey the last and still win by two shots over Maybin, who had been just one behind on the 17th tee; Irishman Damien McGrane, who held the lead after the 15th before a double bogey-bogey-bogey finish; and Denmark's Søren Kjeldsen, who won the 2008 Volvo Masters and finished second the year before.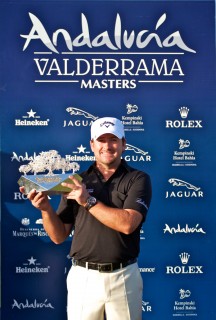 Later, a delighted but drained McDowell said, "It's very special to win here and I draw a lot of comparisons with Pebble Beach. It was a war of attrition and the last man standing really. Damien and Gareth are both grinders in their own right and I was just happy that I could eventually get the job done. It really has been a special season and I couldn't imagine it would have gone the way it has. But I didn't want to rest on my laurels and just cruise to Dubai: I wanted to try and finish strong."
Of McDowell's other 2010 Ryder Cup-winning colleagues, Miguel Ángel Jiménez was seventh on one-over 285; Francesco Molinari 35th; Peter Hanson 47th; and Edoardo Molinari missed the cut,  Sergio García, playing in his second tournament after a two-month break to regain his enthusiasm for the game, and José María Olazábal, competing in his third event after being out of the game almost the entire season due to injury, finished joint 10th on four-over 288.
Among those who also failed to make the cut to the leading 50 players and ties were three Spanish winners on this year's Tour: Álvaro Quirós, the Tour's biggest hitter who hails from the nearby village of Guadiario; Pablo Martin, also from the Costa del Sol; and José Manuel Lara.
Only two Australians were in the field: Richard Green (winner of the 2010 Portugal Masters) finished on seven-over in a share of 21st place; while Scott Strange missed the cut by the barest margin, on six-over 148.
WORLD NUMBER ONE
McDowell moved closer, in second place, to Race to Dubai leader Martin Kaymer, as the German struggled at Valderrama after three consecutive Tour wins starting with the US PGA Championship. Kaymer could have gone to the top of the world rankings if he had won or finished on his own or with just one other player, but he stumbled to 21st and the coveted honour went instead to Lee Westwood, who didn't play at Valderrama.
The Englishman thus ended Tiger Woods' 281-week reign at the top, to become the first European since Nick Faldo in 1994 to lead the world rankings.
The only other European players to have been number one since the rankings were introduced in 1986 are Severiano Ballesteros, Bernhard Langer and Ian Woosnam. Just seven other players had also reached the summit: Greg Norman, Fred Couples, Nick Price, Tom Lehman, Ernie Els, David Duval and Vijay Singh.