17 Jul
Diamonds are for Elen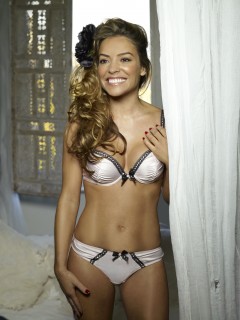 STUNNING Spanish model and mother-of-two Elen Rivas was asked to model Tesco's spring-summer collection of lingerie, "Diamond Boutique" after fronting the autumn-winter collection last year. Not much doubt why!
As Elen says, "Like every woman should, I adore beautiful lingerie. Knowing you have something really beautiful on under your clothes can give you so much confidence. I've always been into fashion and I always feel more put together when I know I have an elegant matching set on.
"I think the high street is incredible and Diamond Boutique is testament to this. The underwear is elegant, luxurious and a main feature in my lingerie drawer. Me and my girlfriends love that a set can cost only £25 and you can buy it from Tesco stores.
"The new Diamond Boutique Collection is stunning; it showcases lots of the season's hottest trends, such as exotic animal prints, ice-cream shades and flirty florals."
Diamond Boutique comes in sizes 32A to 38D for bras and 8-18 for briefs – available from Tesco stores nationwide and online at clothingattesco.com.