11 Jun
Australia seeks Cup of gold at end of rainbow
By NED BELLY
HERE AT OzinSpain we have to admit that, for us, soccer as a spectator sport rates somewhere in the vicinity of figure skating and synchronised swimming – if either of those could be considered sports. Sure, like most kids back in Australia, we played it at school and on weekends, but true "footie" – the kind you would take your own kids to on a Sunday afternoon – will always be rugby league (with Aussie Rules and rugby union lagging slightly behind).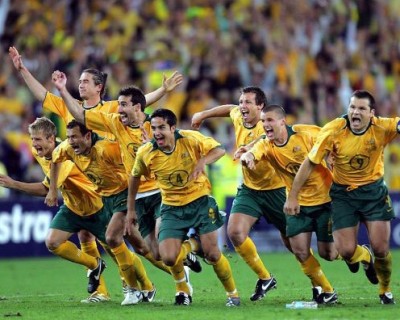 Having said that, the game of soccer does have a genuine "World" Cup (unlike rugby league, et al), and any sport involving Australia is worth switching on the TV (except for figure skating and synchronised swimming).
In this case, with group matches against Germany (13 June), Ghana (19 June) and Serbia (23 June), such dedication to the cause is not likely to be too onerous. If we do manage to finish second behind the Germans, we are likely to face England in the first match of the knock-out stage. And soccer is one game – perhaps the only one (apart from figure skating and synchronised swimming) – where they have our measure.
So, for those of us living in Spain, that means dusting off the red and yellow flag, draping it across the terrace and hoping the reigning European champions go all the way to their first World Cup title. They begin their campaign against Switzerland on Wednesday 16 June, then play Honduras on Monday 21 June and Chile on Friday 25 June.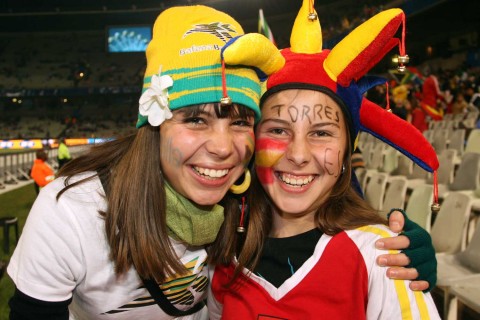 After that, for those still watching, this is how it goes:
Two teams from each group qualify for the next round, starting on Saturday 26 June with the winner of Group A playing the runner-up in Group B (match 1); and the leading team from Group C playing the second-placed finisher in Group D (3).
Other second round matches are: Sunday 27 June, Group B winner vs. Group A runner-up (2) and Group D winner vs. Group C runner-up (4); Monday 28 June, Group E winner vs. Group F runner-up (5); Group G winner vs. Group H runner-up (7); Tuesday 29 June, Group F winner vs. Group E runner-up (6) and Group H winner vs. Group G runner-up (8).
In the quarter-finals, on Friday 2 July the winner of match 1 plays the winner of match 3 (match A) and 5 against 7 (C); and on Saturday 3 July, the winner of match 2 plays the winner of match 4 (match B) and 6 against 8 (D).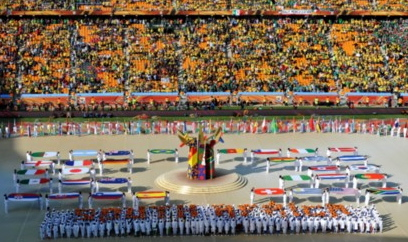 The semi-finals will be the winner of match A against the winner of match C on Tuesday 6 July; and the winner of match B against the winner of match D on Wednesday 7 July.
The losers' play-off for third will be on Saturday 10 July; and the final on Sunday 11 July.
The draw makes it possible for Spain to meet England in the final, though they would conceivably have to beat Argentina or Germany (in Spain's case) and Brazil or France (England).
(Photos by 2010 FIFA World Cup Organising Committee South Africa)
GROUP A
South Africa Mexico Uruguay France
GROUP B
Argentina Nigeria Korea Republic Greece
GROUP C
England USA Algeria Slovenia
GROUP D
Germany Australia Serbia Ghana
GROUP E
Netherlands Denmark Japan Cameroon
GROUP F
Italy Paraguay New Zealand Slovakia
GROUP G
Brazil Korea DPR Côte d'Ivoire Portugal
GROUP H
Spain Switzerland Honduras Chile