25 Apr
Michelin chefs share secrets in Marbella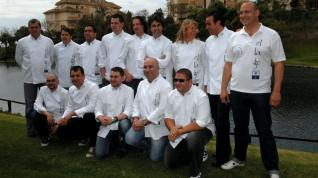 ANDALUCÍA currently has eight Michelin-star restaurants – and their chefs ("all friends") met up in Marbella to celebrate El Lago's 10th anniversary.
They were joined by Marbella mayoress Ángeles Muñoz, who noted that three of the restaurants are located in the municipality: in addition to El Lago (director Paco García and chef Diego del Río); Calima (chef Dani García); and Skina (Victor Trochi and Daniel Rosado).
The others are Café de Paris in Málaga (José Carlos García), which obtained its star in 2001; Trababuches in Ronda (Walter Geist); Abantal in Sevilla (Julio Fernández); La Costa in El Ejido (José Alvarez); and Alejandro in Roquetas de Mar (Alejandro Sánchez).