14 Mar
City hosts Skål International Spain congress
IT HAS BEEN a difficult few years for Marbella but Spain's capital of glamour is working hard to recapture the sparkle of its golden years in the limelight. The city is well known for its championship golf courses, its five-star hotels, its select boutiques, its glitzy beach clubs and its celebrity visitors but it is also consolidating its reputation as a prime congress destination.
The latest organisation to choose Marbella for its annual congress was Skål International (skal.travel), or specifically the Spanish branch of what is the oldest and largest association of travel and tourism professionals in the world, covering all spectrums of the industry.
The Skål International Spain national congress was held at Marbella's Palacio de Congresos from 10 to 14 March, bringing together top tourism managers and executives from throughout Spain.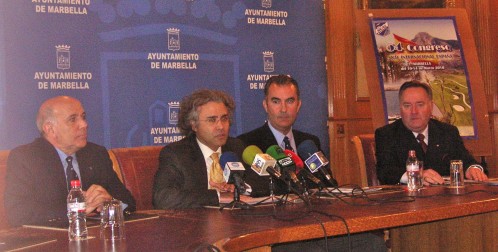 During a special press presentation at Marbella Town Hall before the congress, the councillor for tourism, José Luis Hernández, said this would be an excellent opportunity to showcase Marbella's qualities as a top-class tourism destination.
José Segui, president of Skål International Spain, added that Marbella had been proposed as the venue by the Málaga-Costa del Sol club, and chosen because, "It is an international city, a very beautiful city, it has good hotels, restaurants and boutiques, it is first-class, and it is known by so many people already."
Alberto Fernández, president of Skål International Málaga-Costa del Sol, said there were 14 clubs in Spain, with a total of 500 members – 100 of whom were in the Málaga-Costa del Sol club.
Jim Power, secretary general of the global organisation, said it should be a matter of local pride that the association's international headquarters are based on the Costa del Sol. They were moved from Brussels to the Palacio de Congresos in Torremolinos in 1985, before Skål International bought its own premises in central Torremolinos in 1998. Worldwide, Skål International has 480 chapters in 92 countries, with a total of 20,000 members.
According to the secretary general, the association's philosophy is based on friendship and "amicale", with the slogan "Doing Business Among Friends". But its activities go far beyond that, he said. As a demonstration of its strong commitment to sustainable tourism, Skål International organises the annual Ecotourism Awards, with the winners honoured at the World Congress (this year in Sydney from 7 to 12 October). In addition, as an affiliate member of the World Tourism Organisation (under the auspices of the United Nations), Skål is closely involved with the protection of children from sexual exploitation in tourism; and the association is also a member of the UNWTO's ST-EP (Sustainable Tourism Eliminating Poverty) initiative. As the UN has noted, said Jim Power, one of the causes of terrorism is the dire poverty in many countries.
Referring to the current international economic crisis, José Segui said he was noting a "small reactivation" in the industry. "We are hoping for a slightly better summer, with the situation improving from 2011."
Alberto Fernández reported there had been more hotel reservations on the Costa del Sol in January than in the same month last year. It was still tough, he said, but neighbouring countries were showing signs of coming out of the crisis, and this meant people would start to have more money to spend on travel. "The Costa del Sol is in a good position to capitalise on this, being just two and a half hours away from the main European airports." Other positive developments, he said, were the project at Málaga airport to double its capacity, and the high-speed AVE rail link which had brought Málaga even closer to Madrid and other parts of Spain, an important development in the light of the increased interest being shown in "national" tourism.
Then there is the weather! As Jim Power concluded, "In northern Europe, where I am from, we can only put up with so much snow and bad weather, and – with sunshine almost all year round – the Costa del Sol is well placed to take advantage of this."
The new Marbella club was formally inaugurated during the Congress by the President of Skål International, Nik Racic (director of the Croatian Convention Bureau).