2 Dec
Wine tasting with… CORONA DE ARAGÓN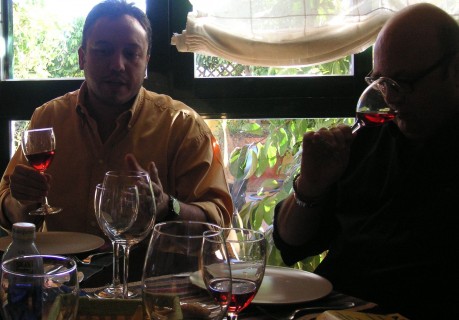 IT WAS PERFECT TIMING, just a few weeks before the festive season began with a vengeance, and an appropriate opportunity to savour some less heralded releases (at least among the foreign wine drinking community) from Spain's top bodegas. And to start stocking up the Christmas-New Year wine rack at home with something other than the traditional Rioja, Ribera del Duero, etc.
Our hosts were visiting directors from Grandes Vinos y Viñedos – located in Caríñena municipality and the largest winery in the Aragón region – including onologist Marcelo Morales Calderón, who presented the company's stellar, award-winning wines over a suitably long and languid lunch at the La Sal restaurant in Cancelada.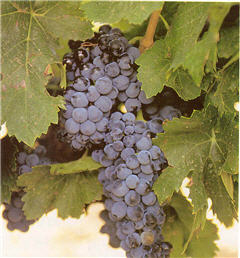 Corona de Aragón was one of the largest Mediterranean kingdoms in the late Middle Ages, spanning from the east of Spain to the south of Greece, an area encompassing the group of territories under the jurisdiction of the King of Aragon from 1164 to 1707 – and one with a venerable wine-producing tradition.
The Aragonese vineyards originated in the Celtíbera region, where the Roman town of Carae (today Cariñena) was situated and whose inhabitants were known to drink wine mixed with honey as far back as the third century B.C. Cariñena was one of the first Spanish wines to obtain the D.O., in 1932.
Corona de Aragón was created from selected vineyards, at least 45 years old, in areas over 500 metres in altitude, with light, airy soil. The vine is cultivated traditionally using the head-pruned system, and on dry land, with a harvest of fewer than 6,000 kilograms per hectare.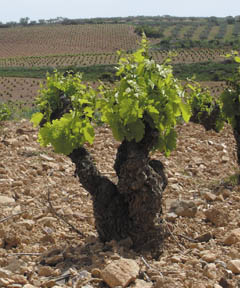 Founded in 1997, Grandes Vinos markets the sales of five Cariñena "Denominación de Origen" cooperatives in the area, while other shareholders include the Government of Aragon and three savings banks.
Approximately €10 million was invested in building 60,000 square metres of facilities, inaugurated in 2002, and the winery now has more than 700 partners in the six towns where the 5,000 hectares of vineyards are located: Aguarón, Alfamén, Cariñena, Cosuenda, Mezalocha and Villanueva de Huerva.

In addition to its generic range of young wines, crianza, reserva and gran reserva, the brand rounds out its collection with limited productions ("only during exceptional vintages") of Disparates varietal wines and Anayón designer wines.
This creative focus also extends to the labelling: an exclusive bottle from the collection was the winner of the inaugural International Bottle Design Competition. It was designed by André Ricard, whose work was described by Pierluigi Cattermole, one of the members of the judging committee, as "a new reading of something as traditional as the Burgundy bottle and altering it to make the neck more noticeable with an exquisitely elegant shape".
All of which provided an excellent additional reason for replenishing the festive wine rack with Corona de Aragón: exquisite to the taste – and aesthetically original.
grandesvinos.com
lacoronadearagon.es