1 Nov
Fisher triumphs in Volvo World Match at Finca Cortesín
By PEDRO BOLICHERO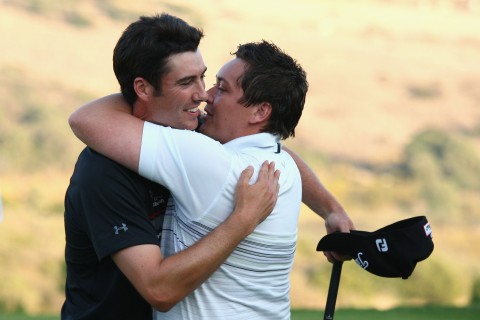 HE WAS DUBBED "The English Patient" by the Spanish press. Inscrutably focused, betraying hardly any emotion as he strode purposefully around the Finca Cortesín course, ranked 10th of the 16 players in the starting field of the Volvo World Match Play Championship, Ross Fisher beat Camilo Villegas on the first day, then lost to Lee Westwood and defeated Jeev Milkha Singh on the second day to top Group D and gain a semi-final place against reigning US Masters champion Angel Cabrera.
He stoically withstood the pressure in that cauldron of match play at its purest, eventually prevailing on the third extra hole (39th in all) to set up a riveting Anglo-American dual against Anthony Kim: the 28-year-old winner of four events on the European Tour against the 24-year-old two-time winner on the US PGA Tour – Fisher ranked 26th in the world, Kim 23rd.
At the end, Fisher boosted his chances of a Ryder Cup debut next year when he beat his American rival by 4&3 after a marathon 126 holes in four days. In the process he prevented Kim from depriving Severiano Ballesteros of his long-standing record (dating to 1981) as the youngest champion in the World Match Play Championship's 45-year history.
Ironically, the trophy returns to Wentworth, where the championship had been held continuously since 1964 (apart from 2007, when it was postponed), as Fisher has been a member at the Surrey club since his boyhood days.
The Englishman, who was never behind in the final after a birdie on the first, received a winner's cheque for €750,000, while Kim went home to California with €450,000.
Earlier, in the morning's consolation final, Australian Robert Allenby aced the sixth with a five-wood from 210 metres, birdie the last (18th in their case) to equal Cabrera's eight-under 64, and made a six-metre winning eagle on the first hole of sudden-death.
As for the round-robin group matches on Thursday and Friday…
Group A: Kim beat Retief Goosen and Paul Casey and lost to Scott Strange, who also defeated Casey but lost to Goosen; while Goosen beat Casey. All four finished with four points for two wins apiece but Kim qualified for the semi-final thanks to a better holes-won-to-lost margin (four to Strange's three).
Group B: Allenby tallied five points from two wins (against Martin Kaymer and Oliver Wilson) and a tie against Sergio García; while Wilson finished second on four points, after beating García and Kaymer, and García (the only Spaniard in the field) tallied three points after beating Kaymer – who finished with no points.
Group C: Cabrera made his way to the semi-finals via wins against Rory McIlroy and Simon Dyson and a loss to Henrik Stenson, for four points like McIlroy but a far superior matches-won margin, 10 to one. McIlroy beat Stenson and Dyson, the latter gaining his two points in a first-day win against Stenson.
Group D: In Fisher's group, Jeev Milkha Singh beat Lee Westwood, who halved with Villegas, who beat Singh.
(Photos: Volvo World Match Play / Getty Images)