Summer Chic at Nikki Beach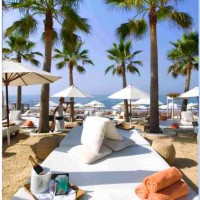 Nikki Beach's 10th anniversary celebrations in Marbella officially begin with the über-glamorous White Party on 30 May. Already opened to the public in April, Nikki Beach Marbella's plush seaside setting of all-white beach sun beds and chic drapery includes a large outdoor restaurant, centrally located octagon-shaped bar, Lifestyle Boutique with items including Nikki Beach-branded and designer clothing, swimwear and cover-ups, indoor-outdoor VIP area (with elevated lounge area and stunning views of the Mediterranean) and spa area by the beach.
The lunch and dinner menu features signature tastes and spices that are representative of all the countries where Nikki Beach is located, including delicious salads, creative sushi rolls, original seafood entrees and slow-roasted free-range rotisserie chicken.
Nikki Beach Mallorca, which was inaugurated last year, is now also open for the new season, with its White Party to be held on 6 June.
(Photos: Gary Edwards)
Select Spring Tastes in Marbella
The Costa Press Club celebrated the start of spring with a luxury buffet dinner at Fuerte hotel in Marbella, coinciding with its monthly meeting. Isabel María García Bardón, president of the Fuerte hotel group, personally greeted members and their invited guests – representing several different nationalities and various media organisations along the Coast.
Comprising journalists, photographers, editors, publicists and writers, the Costa Press Club (officially known as the Asociación Club de Prensa de la Costa del Sol) was officially launched in May 2002 to provide an opportunity for media professionals to meet socially and exchange industry news and views on a regular basis.
Dinners are held on the second Thursday of each month (apart from August), usually with a guest speaker. Representatives of the press, media and communications industries on the Costa del Sol are welcome to attend one of the club's monthly meetings and find out more about how to become a member.
East Meets West… in Marbella
The latest exhibition at Marbella's Red Penguin Art Gallery, "East Meets West", is to be launched in conjunction with the exclusive presentation of a new master piece by Joseph Klibanksy. The polished bronze sculpture, titled "Beautiful Tomorrow", will be on show in the gallery for just two days before going on a world tour of major art fairs around the world. Opening on 7 December, the "East Meets West" exhibition also marks Red Penguin's first anniversary. The gallery is located at El Capricho Decoración on the first-floor of the El Corte Inglés department store.
Boosting Business by the Beach
An ambitious start-up company, originally from Finland, is organising a "growth entrepreneurship" event at Cabopino beach and marina in late-November. Described as part of "a totally new and refreshing networking and matchmaking concept and event", Beach Boost Costa del Sol 2012 is open to a wide cross-section of business-orientated participants – including professionals, venture company representatives and angel investors.
Launched at Kalajoki Beach in Finland in June this year, by founder and CEO Petri Hirvimäki, Ambrosia Europe is looking for "open-minded and active business people" to join the company's initiatives. The Marbella event's home base will be Restaurante el Puerto (pictured).
Grape Harvest Festival
Marbella's Da Bruno restaurant chain celebrated the new grape harvest with a special tasting festival for friends and guests at the Sul Mare establishment. Over the past five years Da Bruno has been offering guests a preview of the latest wines from Ronda bodega Cortijo de los Aguilares, to coincide with the new autumn culinary season.
Film, Photo and Illusion
The latest exhibition at the Red Penguin Gallery in Marbella covers a wide spectrum of media, from photography, film and video to sculptures, illusion drawings, new media, video art and graffiti/street art. Titled "Photo-Film-Illusion", the exhibition runs from 28 September to 27 November, and will also be performed at the Marbella International Film Festival from 3 to 7 October.
The art gallery is located at El Capricho Decoración on the first-floor of the El Corte Inglés department store.
Gourmet Wine Tasting
Quality wines from cellars in Málaga province will be featured during a special wine tasting with gourmet tapas in Mijas on 18 October. Organised jointly by the British Chamber of Commerce in Spain and Mijas Town Hall's foreigners department, the tasting will be held at the Wine Museum in Mijas village. The price is €15 per person and the event begins at 7pm. Bookings through the chamber, Tel. 952 833 169; or town hall, Tel. 952 589 010, frd@mijas.es.
Ménage à… Two Much
Seventeen years after Antonio Banderas was catapulted to Hollywood fame in the comedy Two Much, co-stars Melanie Griffith (now "la Sra. Banderas") and Daryl Hannah joined the Málaga-born actor for a glittering reunion in Marbella. The occasion was the 2012 Starlite Gala, held this year at the Cantera de Nagüeles amphitheatre as part of the month-long Starlite Festival (see below), to raise funds for various charities. One of the highlights of the evening was a duet by Banderas and Spanish pop star David Bisbal.
http://www.youtube.com/watch?v=J7UY0PtoCxc
Gastronomic Extravaganza in Somontano
More than 9,000 revellers enjoyed concerts by Luz Casal, Dúo Dinámico, Macaco and Rosario and 72,500 glasses of wine and tapas at the 2012 Somontano Wine Festival. On show at the festival were 90 different wines from the region, which last year celebrated its 25th anniversary.
Feelings of Nature
A new exhibition at the Red Penguin Art Gallery in Marbella, titled "Feelings of Nature", featuring "exterior and interior living with art and nature", remains on show until 16 July. The art gallery is located at El Capricho Decoración on the first-floor of the El Corte Inglés department store.
"Feelings of Nature" features artworks, sculptures, glass objects and murals by Joseph Klibansky ("Garden of Evolution"), Tatiana Blanqué, Leticia Felguerosa, Charo Carrera, Karin van de Walle, Odile Kinart, Mariela Garibay, Oto Bachorik, Jacinto Moros, Barbara Nanning, Kate Hume, Andy Bonomo, Felix Muyo, Pedro Gabiola, Cats&Withoos, Berend Strik, Paul Smulders, Joao Noutel, Russell West, Fernando Bayona and Joris Marjot.
The gallery's summer exhibition, "Tinto de Verano", is launched with a cocktail party on 20 July. The philosophy of the show is to "give you the feeling of good life… We bring the sun into your heart and your home… happy people, beaches, balmy evenings, red sunsets and the beautiful artworks of 20 high-end artists".
Caring Housewives
Eva Longoria was the star of a press conference in Marbella to present her new charity initiatives this summer, the Dynamic Walk-a-Thon and Global Gift Gala. The Desperate Housewives actress denied that the events – to be held on 18 and 19 August, in aid of The Eva Longoria Foundation and Cesare Scariolo Foundation – signalled a rift with Antonio Banderas. She was unable to join him once again as co-host of this year's Starlite Gala, she said, because of "scheduling reasons", adding, "Antonio and I are very happy in our philanthropic marriage. I will be working on a film on those days and he is very busy with his new film project on Picasso." She declined to comment on her relationship with Eduardo Cruz (brother of Penelope) or the future of Desperate Housewives, which has just ended after its eighth season.
Star-Studded Gala Festival
This year's Starlite Gala will be the highlight of a month-long program of cultural and social events in the Marbella Auditorio: La Cantera de Nagüeles natural amphitheatre. To be held from 13 July to 14 August, the Starlite Festival will feature 14 concerts by international stars including George Benson, former Supertramp co-frontman Roger Hodgson, Christopher Cross, Hugh Laurie, Julio Iglesias, Miguel Bosé, Estopa, and Rosario, Lolita and Antonio Carmona. The festival will be set up with the backdrop of Spain's first "social village", the Starlite Village, where guests will be able to enjoy 150 shows and more than 100 hours of music by DJs, and 45,000-plus tapas from Paco Roncero's El Bulli Catering. Antonio Banderas will once again host the third edition of Spain's premier charity gala, the Starlite Gala, on 4 August.
Final Curtain in Marbella
Opera legend Monserrat Caballé will be joined by her daughter Montsita and Russian tenor Nicolai Baskov for a gala charity concert in Marbella on 23 June in aid of The Children for Peace, as part of a tour to mark her farewell from the stage at the end of this year. Queen Sofía of Spain has been invited to the gala – if she accepts it will be the first time she or her husband has attended a cultural event on the Costa del Sol. More information about tickets, VIP packages and other associated activities is available from the concert venue Puente Romano and sister hotel Marbella Club.
Monserrat is pictured with The Children for Peace co-presidents Debra Mace and Lamia Khashoggi, and the latter's husband Adnan. 
Portraits of Picasso
Málaga's Museo Picasso is highlighting the intense interest shown by photographers of the time in the Málaga-born artist's work and life, in a new exhibition titled "MemyselfandI: Photographic Portraits of Picasso". Jointly brought together by Museo Picasso Málaga and Museum Ludwig (Cologne), the collection and features 166 shots by 34 photographers.  It covers a period that began in the early 20th century – the bohemian years in Paris — with pictures showing "a playful Picasso, surrounded by friends and acquaintances", mostly taken by
his artist friends. In his later years, as famous artists were given access to portray him, the settings became "rather more rigid and controlled". A book published to coincide with the exhibition explains that, in response to the growing interest in his person, Picasso turned himself into a director, set designer, props master and performer in his photos. "They were the
forerunners of the media events staged by Andy Warhol."
Paradisiacal Landscapes
Members of the foreign press on the Costa del Sol were invited to a special viewing at the Museo Carmen Thyssen in Málaga as part of an ongoing initiative by the art museum to strengthen ties with international groups living on the Coast.
Artistic director Lourdes Moreno and managing director Javier Ferrer informed the visiting media representatives about the Carmen Thyssen-Bornemisza Collection and the museum's permanent collection, as well as future educational projects, the "Friends of the Museum" programme and the forthcoming temporary exhibition opening on 31 March and running until 7 October: Paradises and Landscapes in the Carmen Thyssen Collection – From Brueghel to Gauguin.
Controversial Perceptions
Work by one of the "most closely-watched artists on the international contemporary art scene", Richard Prince, is on show at the Museo Picasso Málaga from 27 February until 27 May. The world premiere exhibition comprises 38 large-format paintings and 51 small-format collages and photo-collages created by the US artist over the last two years. Also on display are 26 graphite drawings and watercolours from the 1970s, and one pencil drawing on paper from the same period.
Waggy Tails
The Great Estepona Dog Show, organised by local charity ADANA to raise funds for the care of abandoned dogs in the area, will be held on 3 June at the Palacio de Congresos. This year's show, a fun event for all the family, includes two new classes (best pedigree and best Spanish breed), while continuing with the popular agility and obedience classes. Prizes will also be awarded to "the dog with the waggiest tail" and "the dog who looks most like his/her owner", as well as best veteran, best puppy and best junior dog handler.
More information from Josephine Melville: josiemelville2@gmail.com
Artistic Photography
Photographers Phil Magee and Gordon Haslett will be showing their work at the AIA exhibition at the Antequera Hospital (C/ Poeta Muñoz Rojas) from 16 January to 15 April.
More information at: aia-artgroup.com