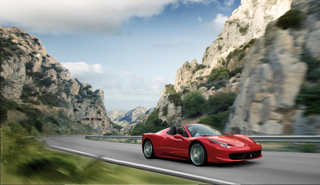 Marbella mayoress Ángeles Muñoz was among the guests at a lavish cocktail presentation of the innovative new Ferrari 458 Spider at prestige car dealership C. De Salamanca.
Two hundred guests invited by C. De Salamanca general manager Gabriel Ruíz and product manager Carlos López and Ferrari's southern European sales manager Tito Arias were able to admire the world's first mid-rear-engined berlinetta equipped with a retractable hard-top.
Powered by Ferrari's naturally-aspirated, direct-injection 4.5 litre V8, which was nominated as the 2011 International Engine of the Year for its engineering excellence, the 458 Spider was built entirely in aluminium. Its hard-top solution offers various advantages over the traditional folding soft-top, including a 25-kilogram reduction in weight and a deployment time of just 14 seconds. The small space needed to house the roof also enabled the designers to include a generous rear bench for luggage behind the seats.